Commemorating Freedom
August is a bittersweet month which revives memories of freedom, of Azadi, of celebrating the birth of a new nation. But it is also a time to remember the trauma and pain of the partition of the subcontinent. We, at Majha House, are curating engaging discussions and talks where the meaning and cost of freedom will be explored by some of our best known writers and thinkers. It will be a month of critical conversations about what we were, what we are now, and what we could have been…
Six Very Special Sessions! A fantastic line up of speakers, storytellers, performers. Readings in Punjabi, Hindi, Urdu and English from the VERY BEST.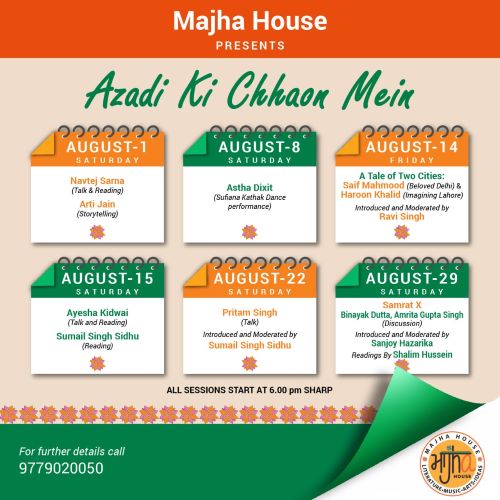 INTERROGATING PUNJABI IDENTITY; August 22 ,2020
PROF PRITAM SINGH is currently a Visiting Scholar at Wolfson College, University of Oxford, UK. He took his DPhil from Oriel College, Oxford where he was awarded the Edward Boyle/Charles Wallace Scholarship. He has been a Research Associate at Queen Elizabeth House, University of Oxford, and Visiting Professor at JNU in 2009, at Lomonosov Moscow State University in 2013 and at University of Uberlandia, Brazil in 2018. After teaching for three decades at Oxford Brookes University, he was awarded the Distinguished Professor Emeritus status. He was honoured with the Distinguished Achievement Award in Political Economy of the Twenty-First Century by the World Association of Political Economy at its 10th World Forum at Johannesburg, South Africa in 2015.
Pritam's research has focussed on the political economy of Indian capitalism and Punjab with special reference to aspects of federal economic relations, nationalism, religion and human rights. He has played a central role in developing the work of the Punjab Research Group (UK), the only research group on a region of South Asia which has been able to sustain itself for 36 year so far. For the last several years, Prof Singh has been the Director PRG. Oxford.
His books include Federalism, Nationalism and Development: India and the Punjab Economy (London/New York: Routledge, 2008;Second Indian Reprint 2019), Economy, Culture and Human Rights: Turbulence in Punjab, India and Beyond (2010) and Punjabi Identity in a Global Context (Oxford University)
SUMAIL SINGH SIDHU earned his doctorate in Modern History from the CHS, JNU. His presentations are geared towards finding a shared ground between Sikh movement and the Punjabi conceptual universe. He has been striving to build a sustainable culture of ideas in Punjab. An academic and researcher with numerous papers and presentations to his credit, he taught at the Delhi University and briefly at Central University, Punjab at Bathinda. Dr Sidhu founded the Punjab Sanjhiwal Jatha in Delhi to challenge the toxic social ideological condition of Punjab's exclusivism. His extensive, path breaking, seminal work on Heer Waris Shah has refueled its popularity among literary circles as well as the populace across the length and breadth of Punjab and North India. His monograph 'Heervanne Punjab Di Sirjna Layee Dharam Yudh Di Sedh Da sawaal' created a furore when it was released.
#majhahouse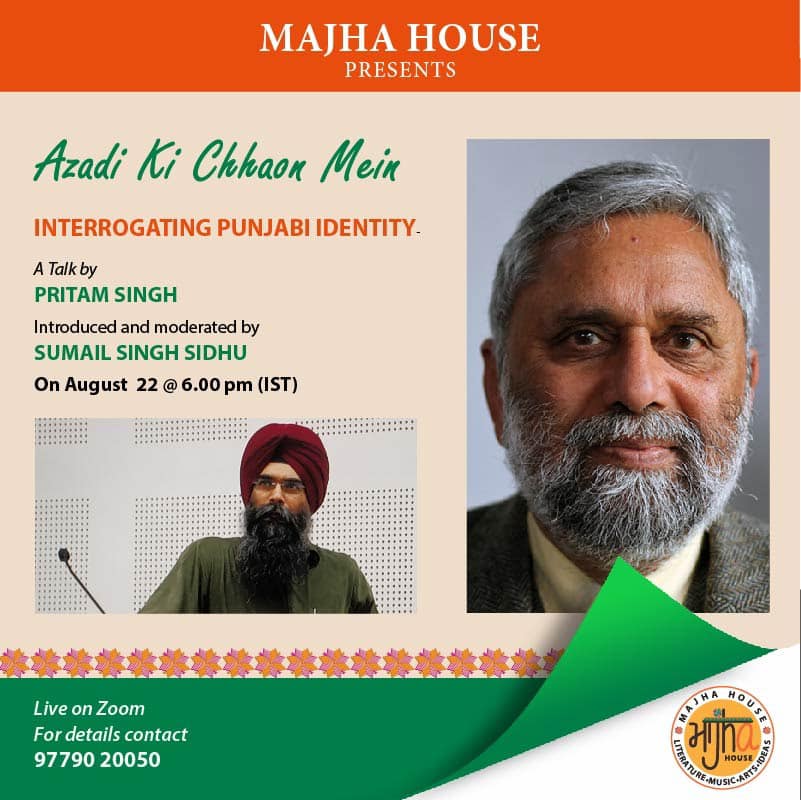 Session 1:YEH SHAB – GAZIDA SEHER: 1st August
NAVTEJ SARNA is a writer and diplomat who has served in various diplomatic capacities in Moscow, Poland, Bhutan, Geneva, Iran, Washington DC and Israel. He was India's high commissioner to the UK before being appointed ambassador to the USA. His books include We Weren't Lovers Like That and The Exile, Winter Evenings and The Book of Nanak. He has translated Zafarnama (Guru Gobind Singh) and Savage Harvest( Mohinder Singh Sarna). His stories have been broadcast on BBC and he contributed regularly to newspapers and journals.
Listen to Navtej Sarna read 'Insaniyat da Sipahi' ( The Defender of Humanity ) written by his father, well known Punjabi writer Mohinder Singh Sarna whose stories he translated into English and published as Savage Harvest. The anthology of partition stories is proof that even that terrible time had its heroes ; the only religion they believed in was Humanity.
ARTI JAIN: In over two decades as a communications professional, Arti has worn many hats. She has been an award winning filmmaker, an associate producer for an Emmy Award winning TV series, co-founder of one of India's early online bookstores and founder of a boutique content agency. She is also a story coach who loves to help individuals and organisations tell better stories. Of late, Arti has combined her three loves- theatre, radio and books to produce her podcast StoryJam, where she narrates texts from Hindi and Urdu literature.
Join us to listen to – Sikka Badal Gaya. Renowned writer Krishna Sobti's very first short story. A vast chasm starts with a minor crack and those at the fault lines are caught unawares. Like Shahni, the elderly widow whose world is about to change overnight for reasons she does not fully understand. Those who try to explain can find no words either and tout a hollow phrase "Sikka badal gaya"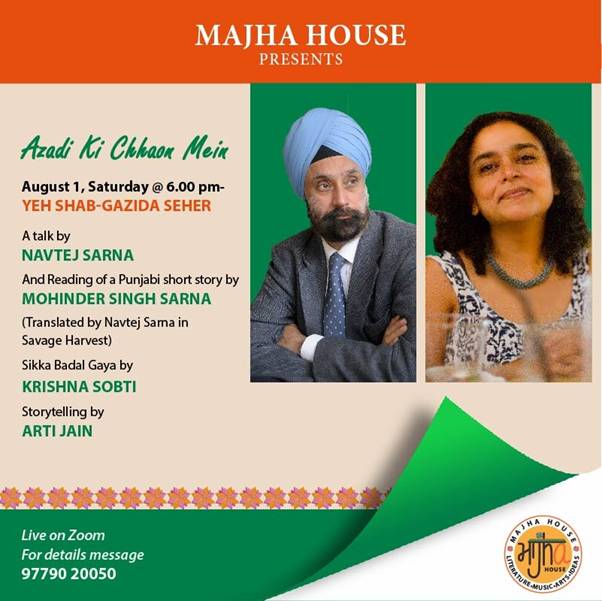 Session 2:YEH SHAB – GAZIDA SEHER: 1st August