Our mission at Majha House is to create awareness on issues of critical importance, to excite the imagination as also to showcase new career opportunities through workshops and classes in theatre, photography, creative writing, screen play writing, technical courses in film editing and sound recording etc. Majha House is thus envisioned as a collaborative space seeking to build an alternative community in the urban centre of Amritsar. To this end, we invite a range of writers, illustrators, publishers, artists and academics to showcase their work at Café Kikli. Some of our other events include-
The Children's Festival
Majha House celebrated the art of reading, writing and performing by curating a 2 day festival for children on the 2nd and 3rd of November. Celebrated and renowned writers and theatre artists like Paro Anand, Bulbul Sharma, Venita Coelho, Vaishali Shroff, Artika Aurora, Gurmeet Kaur, and Sanjna Kapoor graced the festival to conduct workshops and reading and creative writing sessions. Young children from different institutions participated in the sessions and enjoyed themselves to the hilt. The fun-filled, bright and colorful festival regaled one and all as everyone enjoyed all the activities designed by the artists.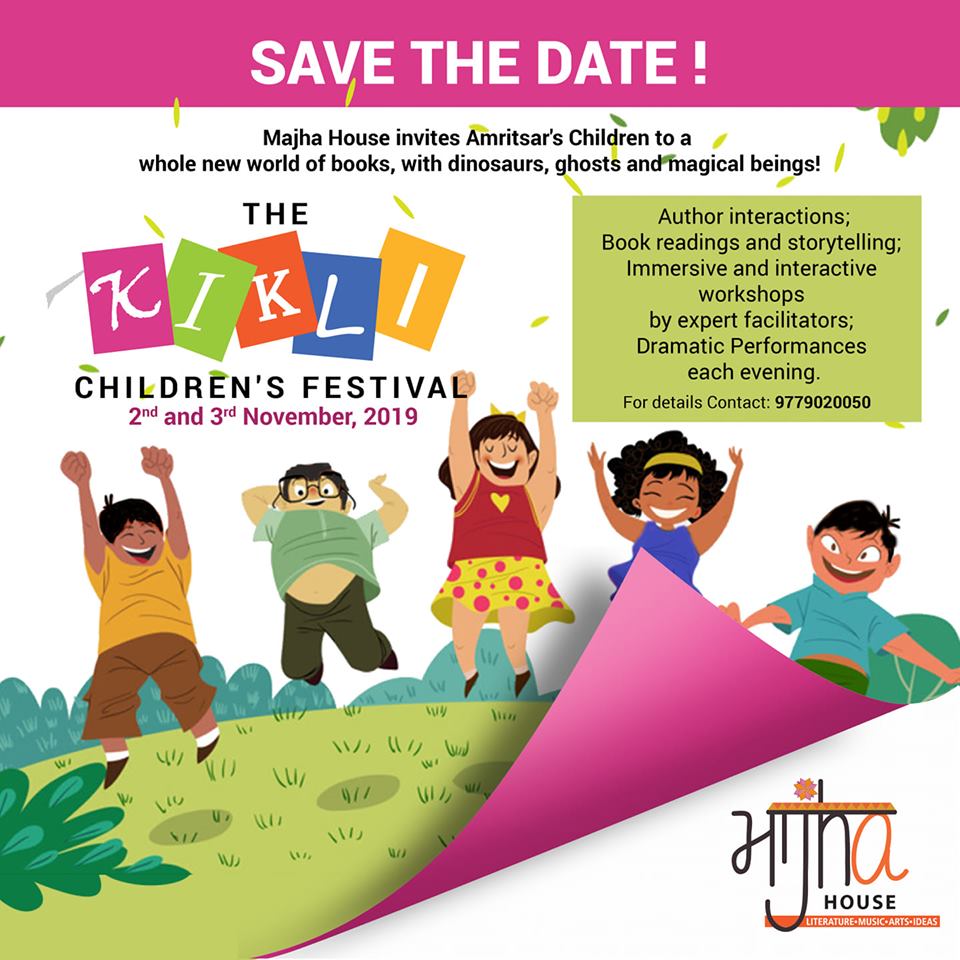 Documentary Film Festival
A two-day Documentary Film Festival was organized by India Foundation for the Arts (IFA) in collaboration with Majha House and Guru Nanak Dev University on 30th and 31st August 2019 in a conference hall, Guru Nanak Bhawan, GNDU.
Over the course of two days, films in a variety of languages and cinematic forms exploring diverse themes across music, dance, theatre, photography, cinema, and interplanetary travel were screened.
This was a unique opportunity for Amritsar especially it's young. Apart from watching from world documentaries, the audience also got the opportunity to interact with two filmmakers– Shabani Hassanwalia and Pallavi Paul– who were present to discuss their movies and the art of film making.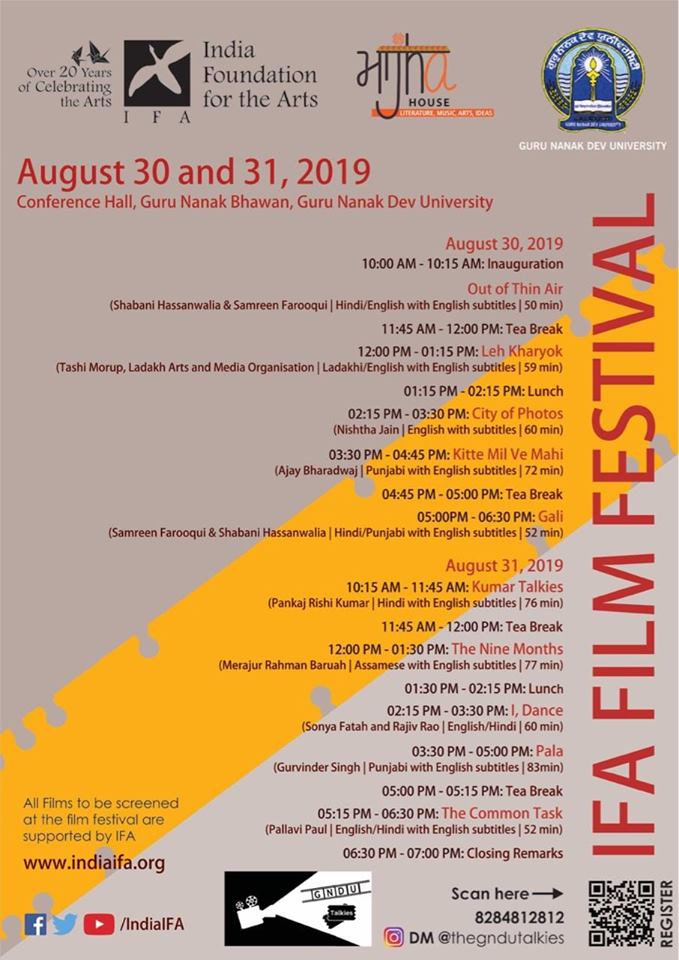 Enriching experience listening to Navdeep Suri the Indian Amabassador to UAE!
Majha House hosted Indian Ambadsador to UAE , Navdeep Singh Suri who talked about his journey as young diplomat and later as Ambassador to the UAE. The Indian Diplomat is also translating his grandfather and Noted Punjabi Novelist Nanak Singh's poetry on Jallianwala Bagh Massacre in English.
Majha house also celebrated the life and times and music of the legendary Rd burman. Focusing on all aspects of his life the feature 'Qisse purane, yaadein purani' chronicles his phenomenal rise, decline and his resurrection post his death. The event had talented young singers like Saloni Arora and Shruti Arora, saxophone player Dr Navpreet hans pal, and vibrant music by the Saatvik band.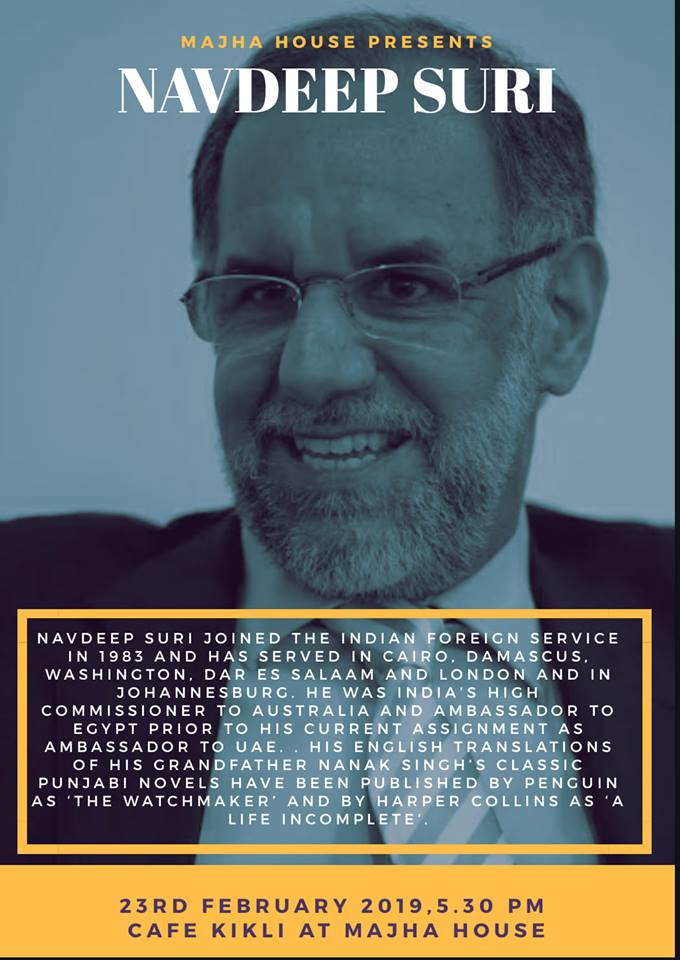 Punjabi Folk Music
Our culture ,Our music
An amazing evening at Majha House where sounds of matkis, dholki, flutes, folk music was a treat for people of Amritsar. The love for folk music….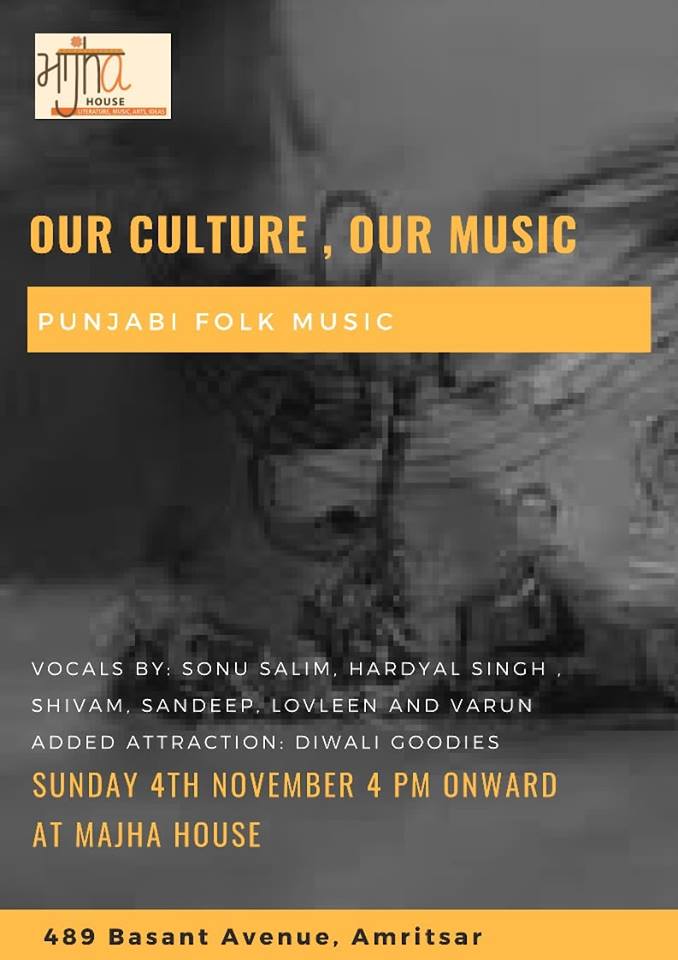 An Evening of Song and Poetry
If music be the food of love, play on.
An evening of songs and poetry at Majha House on 28th October.It was a treat when musicians filled the evening with music and poets voiced their thoughts.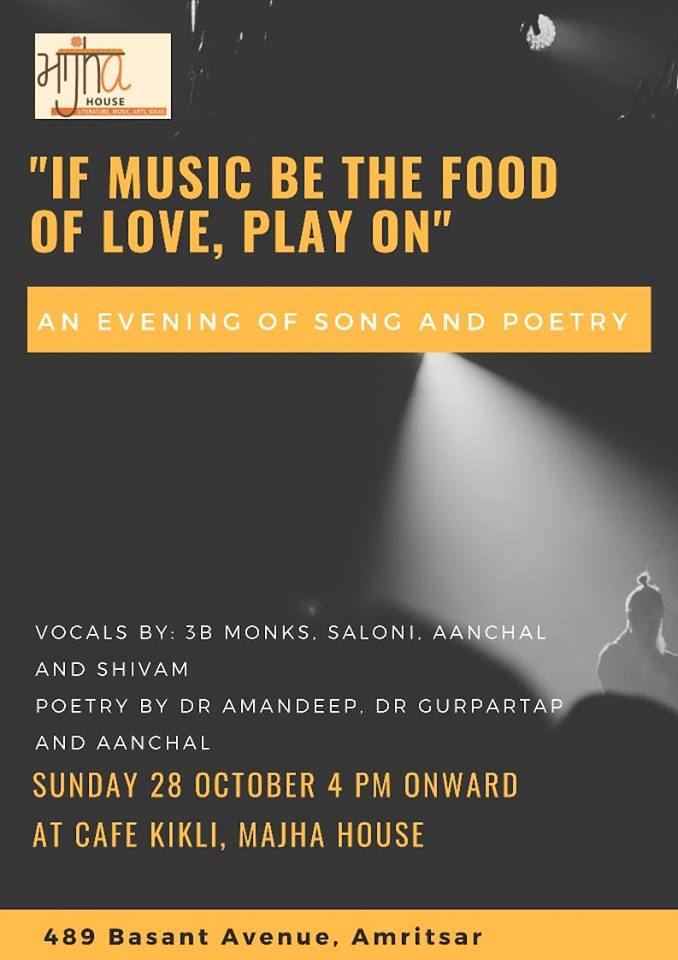 A core element of our programming will be to hold workshops and outreach programmes to generate interest in alternate careers in the arts especially for young people. Our professionally run workshops and courses will have a special focus on Creative Writing, Book/Film Appreciation, Publishing , Screen writing, Cinematography/Direction/Editing, Production Design, Visual Arts and Design, Traditional Arts and Contemporary Crafts, Music and Theatre etc. For more information, please contact us