Majha House, a first of its kind literary and cultural hub in Amritsar, has been host to a number of India's most respected, fearless, brilliant writers, speakers and performers since it opened its doors in March 2018. At a time when the foundations of our democratic and constitutional structure are being debated and fought for, I thought it is time to say that we at Majha House have promoted the space as a non-threatening, non-intimidating, liberal, collaborative platform where we can listen to all voices and opinions.
Since March 2018, we have organized four literary festivals (including one for children in November 2019), and numerous book discussions and launches, workshops, seminars, film festivals, and monthly old-style baithaks to celebrate the finest poets and writers of Punjab and beyond. We have been able to do this with the guidance and support of our Board, Advisors, Patrons, and Friends and we are deeply grateful to them for their time and inputs. Each Festival has been ably curated by our advisory team in Delhi and has been organized and carried out to perfection by the working committee in Amritsar.
The erstwhile family home, a private house known as Billoo's House, has now been transformed into a vibrant, lively, open space for public debates and discourse. Majha House has received awards by the Punjab Government, the Rotary Club Civil Lines Amritsar as well as a private institution for its outstanding contribution in the literary and cultural space. We are grateful for this recognition.
The Kikli Children's Festival held on 2nd and 3rd November saw groups of laughing, excited children fill the lawns of Majha House. Sessions with Sanjana Kapoor, Paro Anand, Bulbul Sharma, Venita Coelho, Vaishali Shroff, Artika Aurora, Fouzia Dastango, Gurmeet Kaur brought in a lot of new and unique ideas as well as stories in English, Punjabi, and Hindi to the young of Amritsar. From theatre to creative writing and bird watching, from dinosaurs and witches and ghouls, from discussions on critical issues like climate change and gender violence to talking to children about the trauma of stereotyping, bullying and 'othering', each enthralling session had children burst into shrieks of joy and peals of laughter and encouraged them to write their own thoughts about these issues.
Panjab: Journeys Through Fault Lines by Amandeep Sandhu which Majha House launched in Amritsar on 24th November along with the publisher Westland Amazon, saw a huge footfall. One of the most important and, to my mind accessible, multilayered contemporary accounts of this land of my ancestors gives clear insights into the trauma and decay that one sees in so many of the institutions of the erstwhile 'granary of India'. Post militancy Panjab is in crisis and Amandeep quotes Satpal Danish in his Preface: 'If you want to understand Panjab, be ready to count its corpses'. Danish attended the session along with S Chiranjiv Singh former ambassador of India to UNESCO and Bibi Kiranjot Kaur of the SGPC (and Master Tara Singh's granddaughter) along with Amandeep Kaur of Guru Nanak Dev University who engaged the author in a lively discussion.
It has long been our desire to start a program that focuses on Punjabi literature and writing and I am delighted to announce that in collaboration with the Prabha Khaitan Foundation based in Kolkatta we have been able to do this. Our first launch session of Aakhar was on the 18th of December with Dr. Surjit Patar as our first guest. One of the best-loved, most eminent poets of Punjab, Patar Saab was in conversation with young performance poet Amy Singh. It was an evening to cherish and the audience listened in pin-drop silence as Patar Saab read and recited and sang his verses and talked about resistance poetry. "The government is trying to dig old graves to divert public attention from important matters," he said referring to the current protests across the country.
The year is almost at its end now and I would like to wish each one of you a happy 2020. May it be filled with Hope, Peace, and Joy. Majha House looks forward to seeing you all once again with new programming and exciting cutting edge discussions and events. The Basant Festival 2020 will be in March and I'd like you to keep the days free so you can be at MH to listen and interact with some brilliant writers, performers,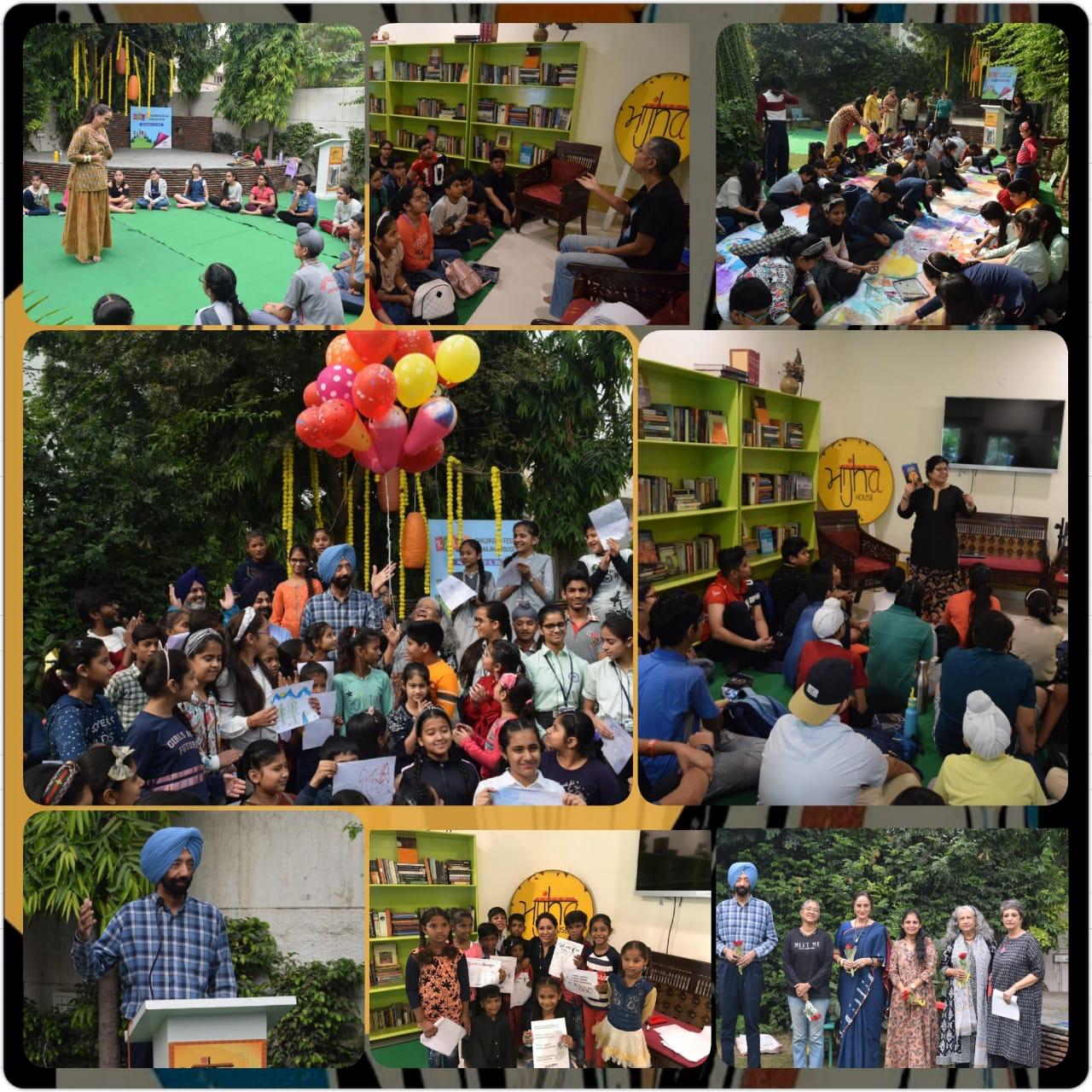 and thinkers once again. Happy Holidays!
Preeti Gill