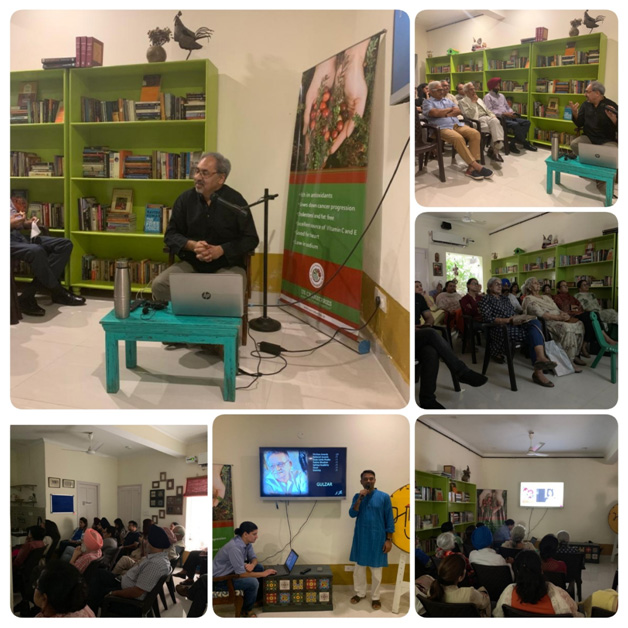 October is a festive season in India with Durga Puja, Dussehra, Kali Puja, Diwali, Lakshmi Puja, Vishwakarma Puja, Bhai Dooj, marking the change in season and the coming of winter in most parts of the country. It has been a time of feasting and fasting, teen-patti parties and celebrations in homes all spruced up and decorated with diyas, lights, flowers colorful rangoli patterns, of course, the ever-present mithai and gifts to family, loved ones, and friends. In this frantic melee of enjoyment and consumption, do we spare a thought for those who do not have the means to join in?
*
At Majha House on October 5th we had a presentation on Spiti, its folklore and traditions by writer, photographer, trekker, and Spiti enthusiast Kishore Thukral. The evening saw Kikli Café, where we have our monthly events, transformed into a scene from the enchanting, mysterious land in the mountains—complete with Tibetan music, tangkhas, artifacts, lamps, and also local food and drink! Kishore is a master storyteller and held his audience spellbound for an hour. I'm sure he's also excited a great many to undertake the drive to Spiti Valley!
On the very next day, we had a veritable visual and musical treat with Surmayi Shaam in celebration of noted, award-winning lyricist and writer Gulzar. A beautiful presentation (that had us all singing along with the melodious songs from some of Gulzar's best known, most memorable films) was put together by Dr. Gurpratap Khairah, an authority on Gulzarsaab, and Dr. Venus Singh. With recitation and music performances by some of the city's well known young performers, singers it was an evening like no other and the cool environs of the Majha House lawn added to the experience.
The energetic young bunch of students and young professionals from Fankaar Meet came together on 28th October at Kikli Café to discuss Masculinity and the stereotype of the macho male (and especially the mustache-twirling Punjabi Jutt!). With jamming at the end of what proved to be a rather 'volatile' evening I had an amazingly interesting time.
And now, as we begin we are only a couple of days away from the First Kikli Children's Festival on the 2nd and 3rd of November with some of India's most loved children's writers, illustrators and facilitators here I am sure the children will have a blast. here we have some fantastic writers and performers, storytellers and illustrators coming. Among these have a line-up of stellerstellar line up are workshops by award-winning, best-selling children's writer Paro Anand, theatre person Sanjna Kapoor (who has years of experience with Prithvi Theatre, and Junoon as well as her prominent film lineage), writer, illustrator and avid birder, Bulbul Sharma doing some immersive workshops with children all on Saturday 2nd November. On Sunday, we have invited school children to come to listen and talk to their favorite writers and join in and do some wonderful innovative book-related activities. Venita Coelho, author, artist and scriptwriter for Film and Television, and the award-winning writer/d our Dinosaur expert Vaishali Shroff and enjoy will also be here. The children are going to have a blast!
There are also planned storytelling sessions in Punjabi, English, and Hindi with Artika Aurora Bakshi, Gurmeet Kaur, and Fouzia Dastango.
I will give you a complete full update will be reported in my next MH Newsletter, along with a sneak peek into the other events we will bring to you in the other events in November and December.
Preeti Gill
Founder
Majha House