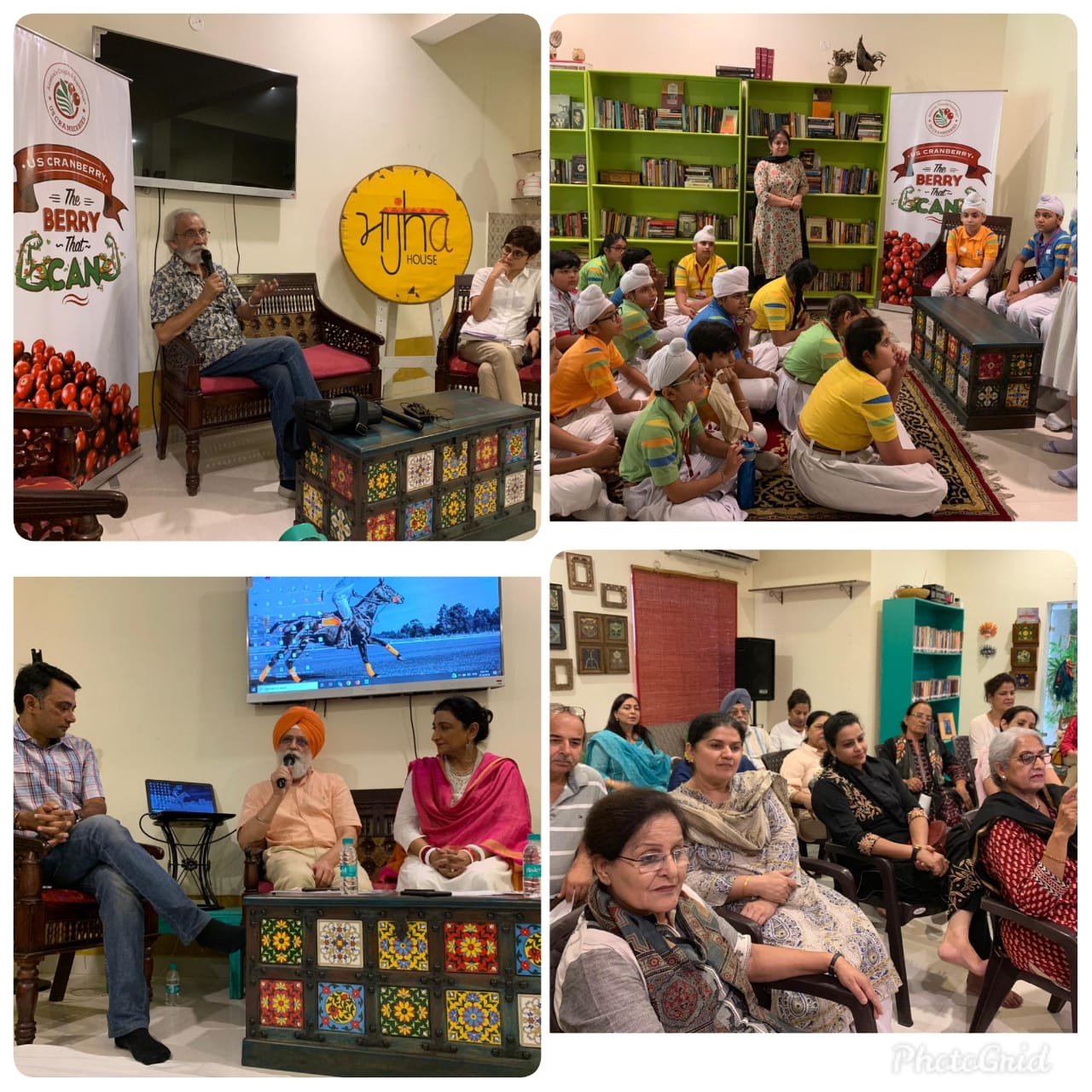 I've been away in Copenhagen these last two weeks and as I wander through the green, clean, beautiful city I am reminded that we at Majha House must wear our green environment consciousness on our sleeve and get to do more than our bit for the planet. This is exactly what we will bring to you in the next MH Basant Festival—writers, activists, poets and performers who will take the planet as their inspiration and show us ways in which we can go forward into the future with safer, sustainable lifestyles to enable each one to live a healthy life that does not harm the natural world around us. We must decrease our carbon footprint.
September has seen a great deal of activity at Majha House with a Baithak held on 14th and then a Book Discussion on the 28th. In between, we had two days of Hindi storytelling sessions, activities and talk on nutrition for the children of GD Goenka School Amritsar led by Nazi Puri and Gulneer Puri. The Baithak on Faiz Ahmed Faiz saw a wonderful discussion between Dr Inderbir Nijjer, a veritable authority on Faiz, his life and work (with an inexhaustible treasure trove of incidents from Faiz's life, he is someone who can quote Faiz and who remembers each verse ever written by him!) and Dr Gurpratap Khairah who had to take the place of Dr Gurupdesh Singh who was taken ill. Incidentally, Gurpratap did a stupendous job of the conversation! The icing on this particular cake was brought in by Dr. Arvinder Chamak, who apart from reciting verses in his inimitable style, managed to bring in Faiz's daughter Muneeze to join us from Lahore via Skype. It was an entrancing evening, full of banter, verse, and song enriched by Jasmeet Nayyer's singing. Young Saloni came at the end and gave us the beautiful Ae jazba e dil gar main chahoon…
The Baithaks have become exceedingly popular. What is most important for me is that we are not only bringing alive the work of these iconic writers and poets but also raising a voice of revolt, of rebellion by talking of poetry, love, passion, truth, idealism in these trying times.
Professor Irfan Habib was at Majha House to talk about Shaheed Bhagat Singh and his book Inquilab: Bhagat Singh on Religion and Revolution on his birth date the 28th of September. He was in conversation with Dr. Amandeep Caur of the department of English, GNDU. Dr. Sarbjot Singh Behl, powerful poet and interesting raconteur, read something he'd written on Bhagat Singh that brought tears to many eyes. Irfan and Atiya, his wife, are old friends and I was sorry indeed to miss them in Amritsar. Irfan was busy with lectures at GNDU, Khalsa College and DAV College that I had managed to arrange for him. I am sure that the students benefitted enormously by this.
As the month ends today, and as I head homewards I am looking forward to the next two events we have arranged at Majha House:A Visual Presentation on SPITI by Kishore Thukral, writer, trekker, photographer, a researcher on Buddhist lore which is slated to be on the 5th of October. It will be a Spiti Evening with drink and food and a display of thangkas and artifacts from that remote, stunning land.
On 6th October we have another Baithak and this time the poet-writer is GULZAR. Once again we have a presentation created by Dr. Gurpratap Khairah and Dr. Venus Singh (who call themselves The Chopdars) and Gulzar's poetry read by our audience and sung by some of Amritsar's most talented young singers—Saloni Arora, 3B Monks, and Gaurav Kaushal.
We are also ready to tell you more about the upcoming Children's Festival –a wonderful mix of interactive immersive activities and sessions with some of India's best-loved children's writers. We also have a serious Theatre Workshop with Sanjna Kapoor –call Nazi Puri our Festival Coordinator for details (9779020050).
Preeti Gill
Founder
Majha House
489 Basant Avenue
Amritsar