Majha House's 2021 activities in August.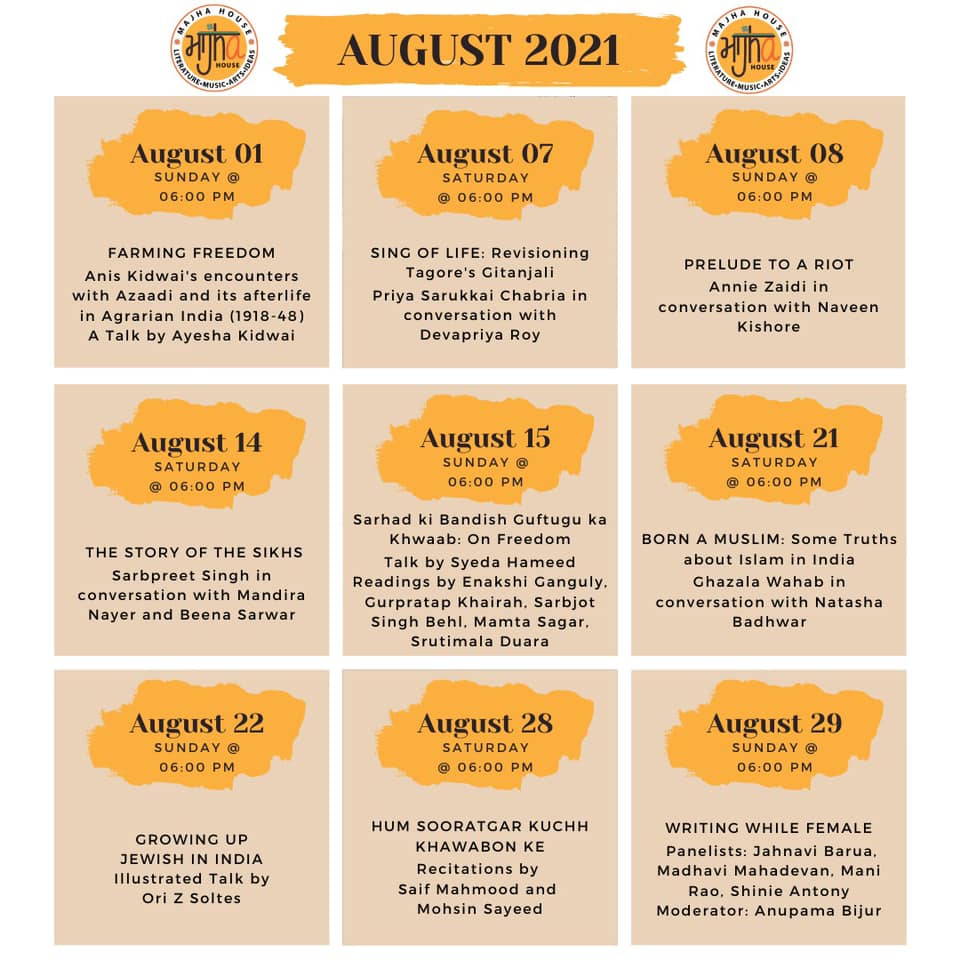 Majha House's 2021 activities in July.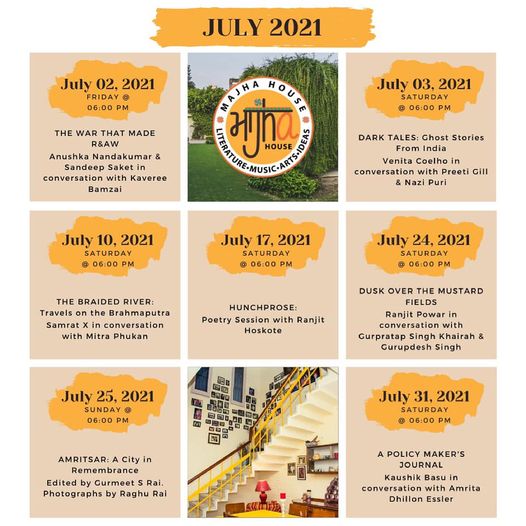 Majha House's 2021 activities in June.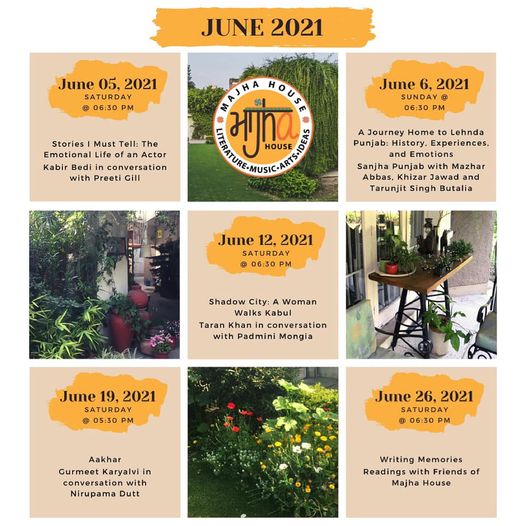 Majha House's 2021 activities in April.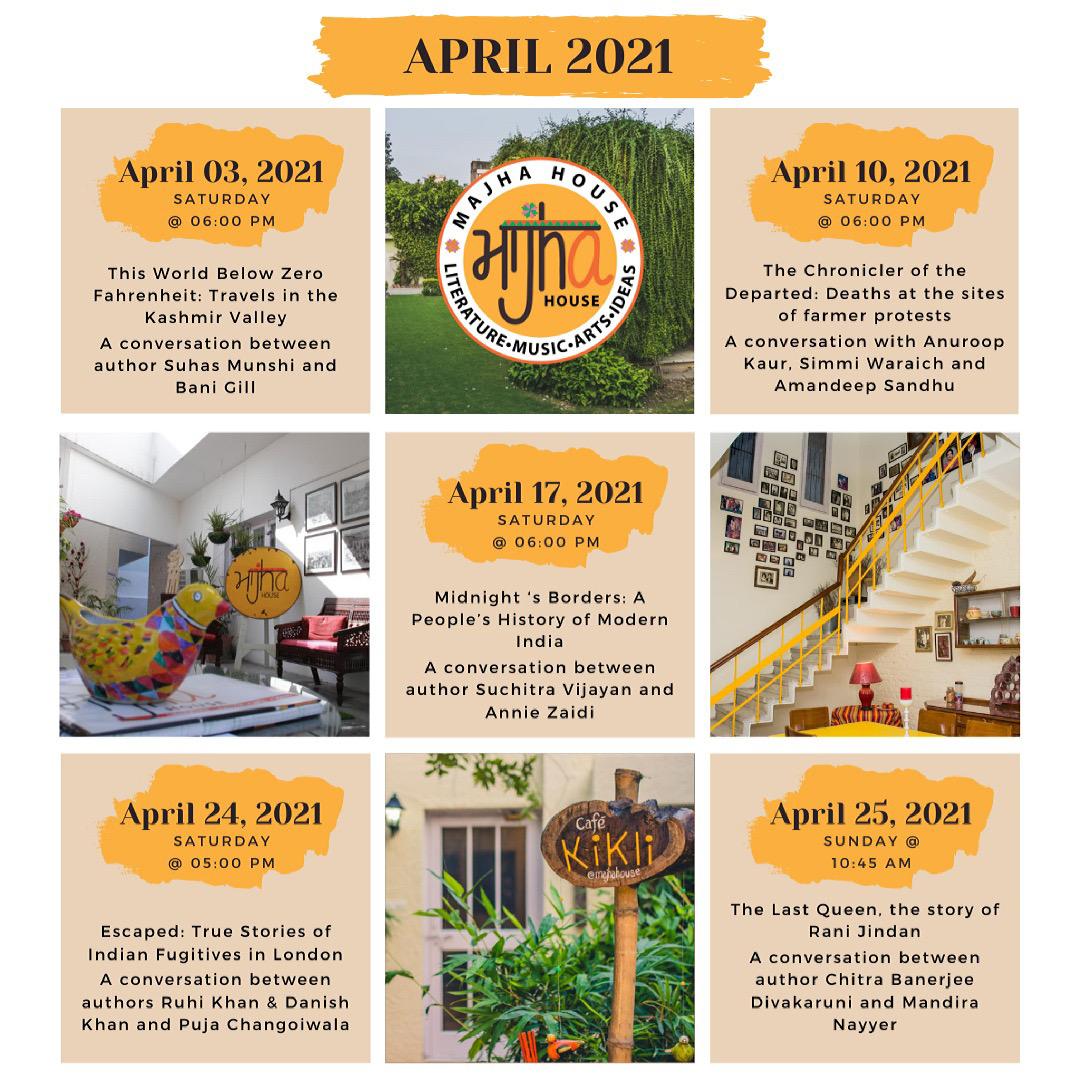 Majha House kickstarts 2021 activities in January with the Winter Festival.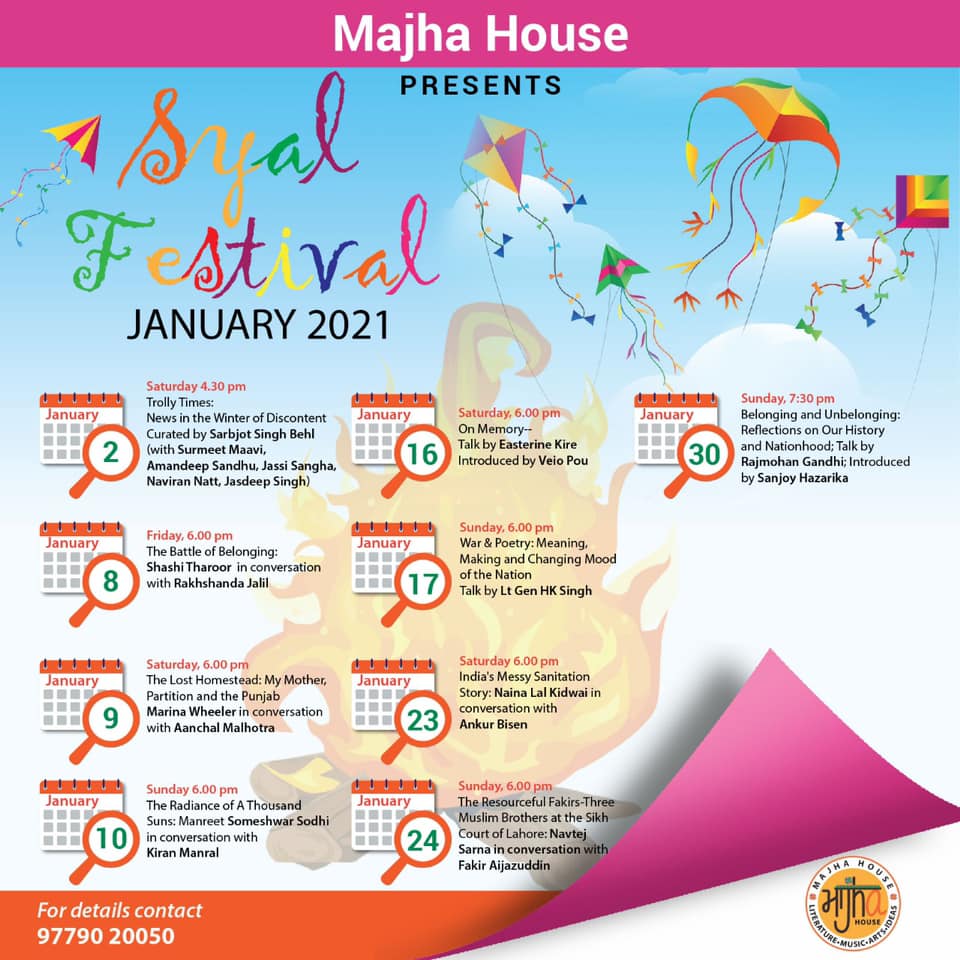 AMRITSAR: A CITY IN REMEMBRANCE
A rich kaleidoscopic viewing of Amritsar that celebrates its many urban fragments, artifacts, and the people that make the social, economic, and material culture of this incredible historic city. A rigorous and insightful portrayal of how architecture. urban design and citizens have coalesced over time.
Photos: Raghu Rai
Edited by: Gurmeet Rai
DUSK OVER THE MUSTARD FIELDS by Ranjit Powar
Set in colonial Punjab, Dusk over the Mustard Feilds is a poignant and compelling human story. Inspired by true events, steered by political and social upheavals of the Partition. Married at sixteen Nimmo's destiny hangs in the balance as she fails to meet the expectations of her debonair husband, Lt. Hukum Singh.
HUNCHPROSE by Ranjit Hoskote
What affirms our humanity, enduring beyond our barbarism? Where is home, in a world beleaguered by climate crisis, pandemic, and genocide?
Hunchprose is Ranjit Hoskote's fierce, testament to these urgencies.
THE BRAIDED RIVER: Travels on the Brahmaputra
From its origins in the high reaches of Tibet to the fertile plains of Bangladesh the Brahmaputra is the largest river in Asia. Author and journalist Samrat Choudhury talk about his travels on the river with author and columnist Mitra Phukan.
DARK TALES: The Ghost Stories From India
In this collection of eleven very dark and twisted tales, Venita Coelho lays bare the underbelly of contemporary India. Get ready to gasp and cringe in horror as you have the rug pulled out from under you! This is a book you won't want to read after dark.
Venita Coelho is an award-winning author, writer, and director. Her book Boy No. 32 published by Scholastic won the Hindu Young World-Goodbooks in 2016.
The War That Made R&AW
How did India build an intelligence-gathering agency that would ensure the nation's security and integrity?
Research & Analysis Wing has operated from the shadows, and its founder and chief RN Kao put Indian intelligence gathering on the world map.
The fantastic untold story of the covert operations and quick thinking that won the 1971 Bangladesh War is an exciting and compelling tale!
MAJHA HOUSE PRESENTS MEMOIRS
A memoir is a narrative, written from the perspective of the author, about an important part of their life. Memoir authors choose a pivotal moment in their lives and try to recreate the event through storytelling. The author's feelings and assumptions are central to the narrative. Memoirs still include all the facts of the event, but the author has more flexibility here.
Aakhar
Aakhar session in collaboration with Prabha Khaitan Foundation to promote regional language writers and their work. Presenting award-winning Punjabi author Gurmeet Karyalvi in conversation with journalist and poet Nirupama Dutt
Shadow City: A Woman Walk Kabul
When Taran N. Khan first arrived in Kabul in the spring of 2006-five years after the Taliban government was overthrown-she found a city both familiar and unknown. Falling in with poets, archaeologists and film-makers, she begins to explore the city and, over the course of several returns, discovers a Kabul quite different from the one she had expected.
Shadow City is an account of these expeditions, a personal and meditative portrait of a city we know primarily in terms of conflict.
My Journey Home: Going Back to Lehnda Punjab
It is written by a person whose ancestors belonged to a small village of Butala Sardar Jhanda Singh, located in the vicinity of Gujranwala. Despite being one of the biggest landowning families of the Gujranwala division, owning 42 jagirs owing to which their village was named as Butala or Butalia (forty-two in the Punjabi language), the Butalia family had to leave the area where it had lived for centuries. Another outstanding feature of this book is its bilingualism.
Stories I Must Tell: The Emotional Life of an Actor
Stories I Must Tell is the unusually candid and compelling memoir of a man who holds nothing back, in love or in storytelling. It is the story of a middle-class boy from Delhi whose career now spans the globe. Equally, it is the tale of how he survived the roller-coaster journey of the making, unmaking, and remaking of him as a person.
The Last Queen: The Story of Rani Jindan
An exquisite love story of a king and a commoner, a cautionary tale about loyalty and betrayal, and a powerful parable of the indestructible bond between mother and child, Chitra Banerjee Divakaruni's unforgettable novel brings alive one of the most fearless women of the nineteenth century, an inspiration for our times.
Escaped: True Stories of India Fugitives in London
A conversation with authors Danish Khan & Ruhi Khan about their new book which tracks 12 cases involving some high profile alleged offenders wanted in India who is now in the UK.
In conversation with the author is Puja Changoiwala.
Midnight's Borders
The first true people's history of modern India told through a seven-year, 9,000-mile journey along its many contested borders
Sharing borders with six countries and spanning geography that extends from Pakistan to Myanmar, India is the world's largest democracy and second-most populous country. It is also the site of the world's biggest crisis of statelessness, as it strips citizenship from hundreds of thousands of its people–especially those living in disputed border regions.
Suchitra Vijayan traveled India's vast land border to explore how these populations live, and document how even places just a few miles apart can feel like entirely different countries.
Udham Singh: The Revenge of Jallianwala Bagh
Anita Anand is a political journalist who has presented television and radio programs on the BBC for twenty years. She currently presents any answers on radio 4.
She is the author of The Patient Assassin, A True Tale of Massacre, Revenge and the Raj, based on the life of Udham Singh and with William Dalrymple, Koh-i-Noor: The History of the World's Most Infamous Diamond.
The Chronicler of the Departed:
Deaths at the sites of farmer protests
For over 125 days, farmers from north India are protesting on the borders of Delhi. The biting cold, unseasonal rains, and the now scorching heat has claimed more than 350 lives.
In this talk, we shall meet the chronicler of the Departed at the issues arising from this long-drawn struggle with Dr. Simmi Waraich. Bringing the conversation to us is well-known writer, journalist, and commentator Amandeep Sandhu.
Majha House presents
This World Below Zero Fahrenheit: Travels in the Kashmir Valley
This insightful travelogue presents a portrait of a people who have been overshadowed by the place they live in, even as it ruminates on the idea of home and exile. A unique social and cultural perspective of a state that is permanently in the news for violence that engulfs it, or the beauty of its landscape.
Author and journalist, SUHAS MUNSHI in conversation with BANI GILL, Post- Doctoral Researcher, University of Oxford.
Majha House presents
Sufi Poetry in Hindi Cinema
Gurupdesh Singh and Ramnita Sharda in conversation with Gurpartap Khairah
Gurupdesh Singh was a former professor of English at GNDU and is a renowned scholar and writer. He has recently translated the poetry of Nasir Kazmi.
Ramnita Sharda is principal, Dev Samaj College, Ferozpur. Her area of specialization is Sufi Poetry.
Majha House presents
The Dancer and the Dance
Ashish Khokar celebrated author, dance critic, and historian in conversation about dance and its history with S Chiranjeev Singh, former administrator, well-known author, and translator.
आओ फिर नज़्म कहें…
Majha House invites you to share your poem(s). It should be written by you and we give you a chance to read it on our literary platform before a global audience.
Our special guest for the evening is Anamika, multiple award-winning poet, novelist, translator, and critic, and the winner of the prestigious Bharat Bhushan award as well as the Kanhaiya Lal Sethi award for poetry, 2021. She will read to us as well as discuss her poetry.
MUSIC DIL SE
An evening of songs and fusion music
with trained vocalist
ZORAVAR BAKHSHI
On Sunday, the 7th of March at 6:00 pm on the zoom app
Majha House presents… Zikr e Firaq
Join us as we explore the poetry and life of one of India's most respected and loved poets Firaq Gorakhpuri.
Exploring Firaq: Gurupdesh Singh in conversation with Bhupinder 'Aziz' Parihar.
Singing Firaq: Jasmeet Nayyar. Suraksha
On Saturday, the 20th of February at 5:30 pm on the zoom app
Clean Bowled!
Cricket and the Subcontinent
Celebrated writer Poonam Ayub in conversation with Sunil Gupta
Belonging & UnBelonging in | A talk by Rajmohan Gandhi
Professor Rajmohan Gandhi is a historian, journalist, and biographer.
Dividing his time between India and the United States, Rajmohan Gandhi currently serves as Research Professor at the University of Illinois at Urbana-Champaign. He has been teaching at the University of Illinois since 1997. In December 2017, Gandhi was president, Contemporary History, at the 78th session of the Indian History Congress, held in Kolkata. Rajmohan Gandhi has previously served as a Member of the Rajya Sabha; as Editor, Indian Express, in Chennai; and as Chief Editor, Himmat, Mumbai. From 1956, he has been associated with the work of Initiatives of Change, formerly known as Moral Re-Armament.
The Resourceful Fakirs: Three Muslim Brothers at the Sikh Court of Lahore
NAVTEJ SARNA, former diplomat, India's ambassador to the US, celebrated writer and translator in conversation with FAKIR AIJAZUDDIN, scion of the Fakir family in Lahore about the life and times of his forbears, the three Muslim brothers who were couriers at the Sikh darbar of Maharaja Ranjit Singh. The oldest Fakir Azizuddin served as the Maharaja's trusted spokesperson and negotiator, Zakir Imamuddin the second brother held the keys to Gobindgarh Fort in Amritsar where the famed armoury and treasury were located and the third, Fakir Nuruddin, occupied a position of prominence at the court and was a member of the Regency Council after the death of the Maharaja.
INDIA'S MESSY SANITATION STORY
Naina Lal Kidwai has a number of firsts to her credit: she was the first Indian woman to get an MBA from Harvard in 1982, the first woman president of the Federation of Indian Chambers of Commerce and Industry (FICCI), and the first woman to head a foreign bank's operations in India. These days, however, she works for causes closer to her heart: environment, sanitation, access to water and women's empowerment, to name a few. Her latest book Survive Or Sink deals with issues of sanitation, water, environment, pollution and green finance.
Ankur Bisen a management consultant with Technopak India and author of Wasted, his first book where he raises concerns about the environment, and why the handling of waste in India requires the finest management. Ankur provides an intensive narrative about the creation of waste, its disposal during the pre-industrial and the post-industrial times, and how, with every technological advancement, humans also create collateral hazardous waste.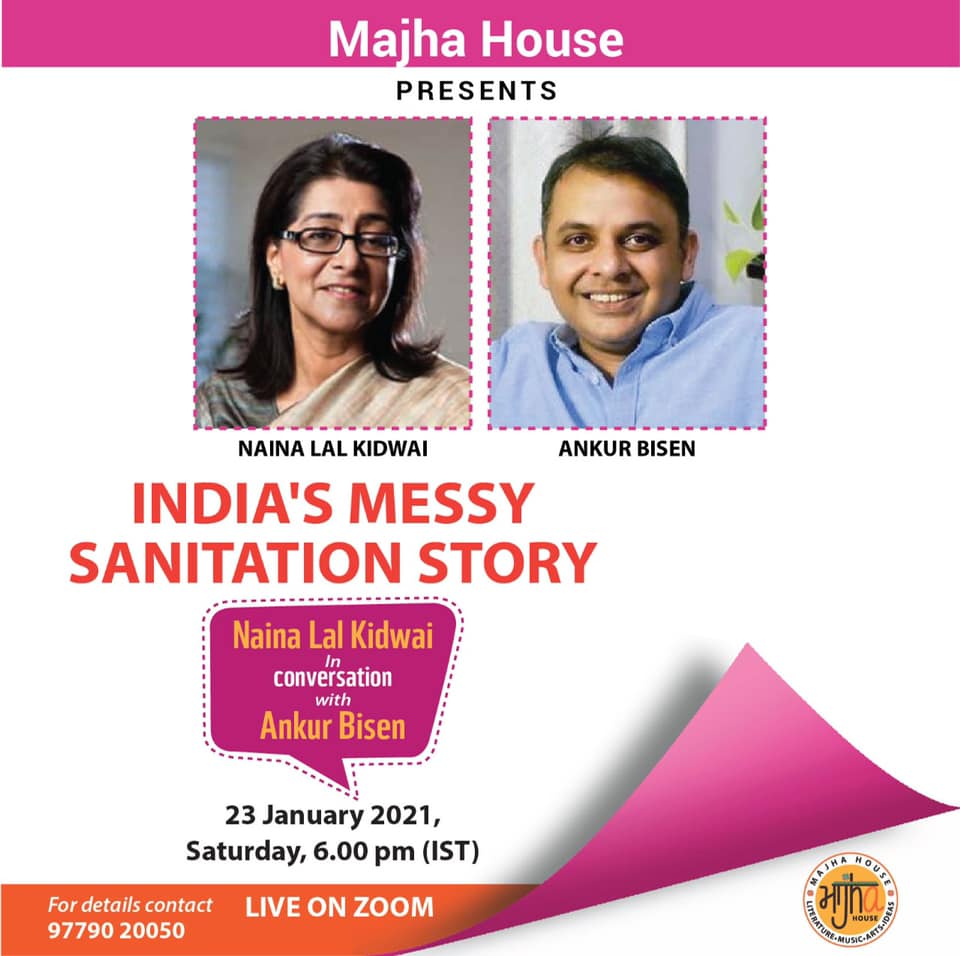 Woh Tera Shayr Woh Tera Nasir: An Evening of Nasir Kazmi's Poetry
Born in Ambala in pre-partition Punjab, Nasir Kazmi was one of the leading poets of the Urdu language who used simple words in his verses. He was associated with Radio Pakistan Lahore and several literary journals.
Curated by Qasim Jafri; Hosted by Arvinder Chamak; Readings by Basir Kazmi and Anujot.
War and Poetry: Meaning, Making and Changing Mood of the Nation
Talk by Maj Gen Hemant Kumar Singh who is working on a book on remembrance, memorialization, commemoration, and war memorials in India. He holds the Maharana Pratap Chair at the United Services Institute of India, he was earlier Director of the Arunachal Martyrs Memorial project. He has created the Military Literature Festival, Chandigarh, and enjoys writing poetry.
On Memory: A Talk by Easterine Kire
Bestselling, award-winning writer from Nagaland, winner of the 'Free Word' Prize awarded by Catalan PEN, Barcelona and the Hindu Prize for Best Fiction in 2015 as well as the Tata Book of the Year in 2017 and the Bal Sahitya Puraskar in 2018. Her latest novel, A Respectable Woman, was awarded Printed book of the Year by Publishing Next in 2019.
Easterine Kire is introduced by Veio Pou, author of Waiting for the Dust to Settle.
The Radiance of a Thousand Suns: Weaving Memory-1947 and 1984
SUNDAY, 10th January Manreet Sodhi Someshwar's new, multiple award-winning novels The Radiance of a Thousand Suns intertwines history and personal memory as she knits together a powerful narrative with strong female protagonists and delves deep into the traumas of 1947 and 1984.
In conversation with her is award-winning author, TEDx speaker, former journalist Kiran Manral.
THE BATTLE OF BELONGING: Are some Indians more Indian than others?
FRIDAY, 8th January. Celebrated author Shashi Tharoor's new book is anchored in incontestable scholarship and is fierce. It delves into contested ideas of nationalism, citizenship, and belonging and engages with pressing issues confronting Indian society today. In conversation with Dr. Tharoor is well-known writer, historian, and literary critic Rakhshanda Jalil.
The Lost Homestead: A family journey, a political drama, a historical legacy.
SATURDAY, 9th January: In The Lost Homestead Marina Wheeler writes about her family, her mother Dip who was born in Sargodha, and was forced to flee along with her family with the Partition of the subcontinent in 1947. It's a deeply moving story of how a family's personal history interweaves with the political life of a nation. So many of Marina's large extended family, her cousins, and others are here in Delhi- it's a story that will resonate with each one of us.
Trolly Times
Conversation with the creative team behind the path-breaking newspaper that has been bringing up to date and grounded coverage on the ongoing farmer protests at the borders of Delhi.