In these times of curfew and lockdown, we have time to listen, to learn and to see things differently. To help you do this and to provide all our members and premembers with food for thought, Majha House brings to you our unique sessions online. On Zoom app we will host Online Adda @ Majha where guest speakers from India and overseas will talk about books, poetry, music and performance-we will bring you ideas and information.
If you can't come to Majha House, let Majha House come to you!
Stay tuned for details of programs.
Stay safe
Stay healthy
Stay intellectually challenged and engaged with Majha House
18th July
Write! Draw! Sing! Paint! Doodle! Dance
SPECIAL ANNOUNCEMENT FOR THE BIG LITTLE READERS
Write! Draw! Sing! Paint! Doodle! Dance
CREATE

We're Waiting
To Hear from
YOU
Majha House and Red Panda Publications, the children's imprint of Westland Books are delighted to announce that they will select 5 kids and their work every session and showcase their work on their websites and social media.
The selected children will also be awarded certificates by Majha House to encourage their Creative Expression!
Register your child for the first session of the series for more details!
Suni Goes to Space
18 July 2020
Whatsapp Nazi – 9779020050
Mumbai Edition – Sold Out
Amritsar – Few Seats Left
Look forward to meeting the children and hearing what they think!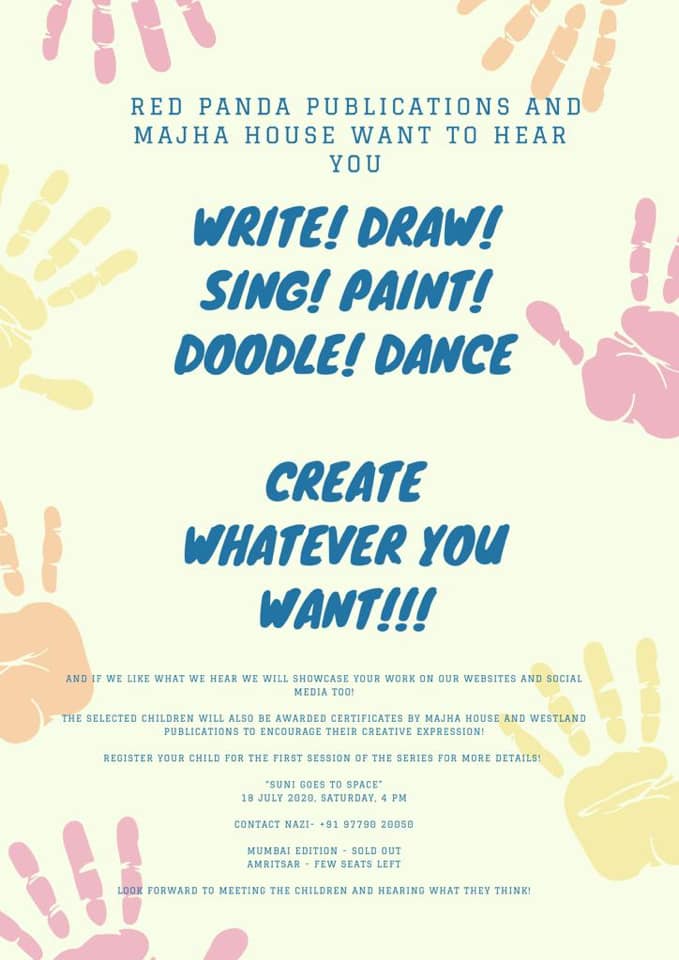 18th July
The Indian Army
MAJHA HOUSE
presents a candid and incisive discussion on THE INDIAN ARMY: REMINISCENCES, REFORMS & ROMANCE
by Lt.Gen HS Panag PVSM, AVSM (Retd).
Sq Ldr Rana Tej Pratap Singh Chhina, OBE will be in Conversation with the author on Saturday 18 July at 6 pm.

The essays in the book examine critical questions surrounding the Armed Forces today, including ongoing debates on media polarisation, nationalism, militarisation in Kashmir and equal opportunities to women in combat.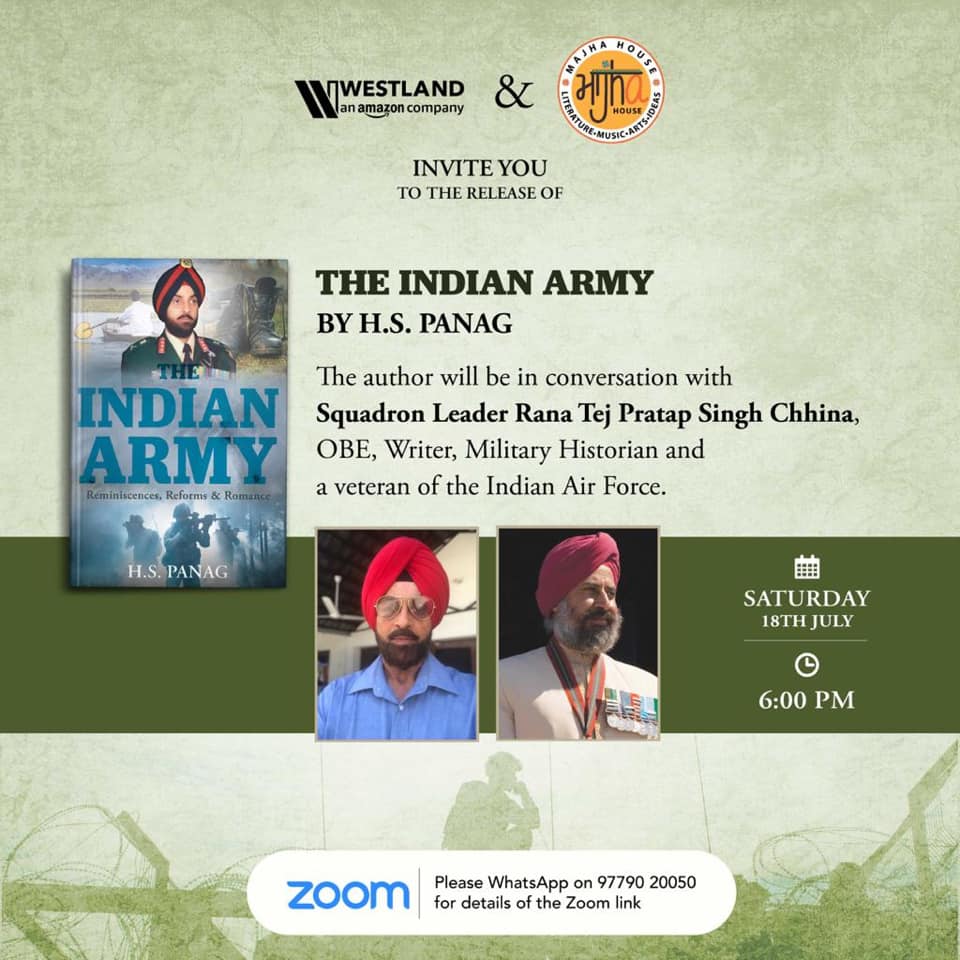 11th July
Who is an Indian?
Who Is An Indian?
At a time when this question has become particularly urgent MAJHA HOUSE Presents a discussion of The Deoliwallahs, a forgotten account of the 3000 odd Indian Chinese interned in a camp in Rajasthan.
Panelists: JOY MA born at Deoli Camp, educated in India who now lives in the US
DILIP D'SOUZA award winning journalist and author of seven books based in Mumbai.
AANCHAL MALHOTRA oral historian, author of Remnants of a Separation.
5th July
HEER KAHANI-2: A SPIRITUAL JOURNEY
Ustad Khadim Hussain Warsi lives in Pakistan, and is famous for his soulful presentation of 'Heer Waris Shah'. He has been to India many times including for live music concerts. It is said that love trickles from his honey-dipped voice; if the border fence had a heart, it would melt. We hope it will serve to create an atmosphere towards Sanjha Panjab's continuing efforts to promote Cross Border Conversations between east and west Punjab.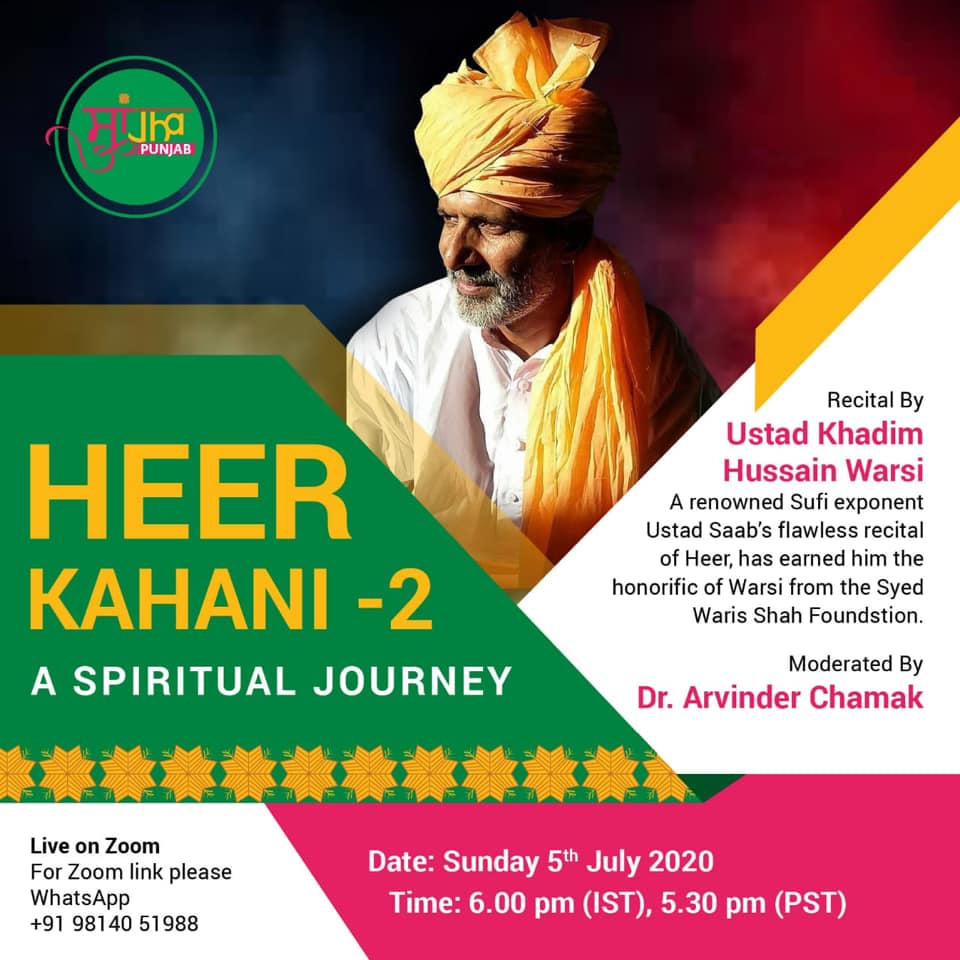 1st July
Punjabi Cuisine A Hotpot Of History
Majha House Presents
*PUNJABI CUISINE*
*A Hotpot of History*
*Puneetinder Kaur Sidhu* (Author , Travel Writer , Content Developer, Food Critic and an Itinerant traveler ) and *Vernika Awal* (journalist , food writer and blogger) in conversation with *Poonam Bevli Sahi* (Foodie, Graphic designer and Artist) as they talk about the delectable food and rich culture and traditions of Punjab.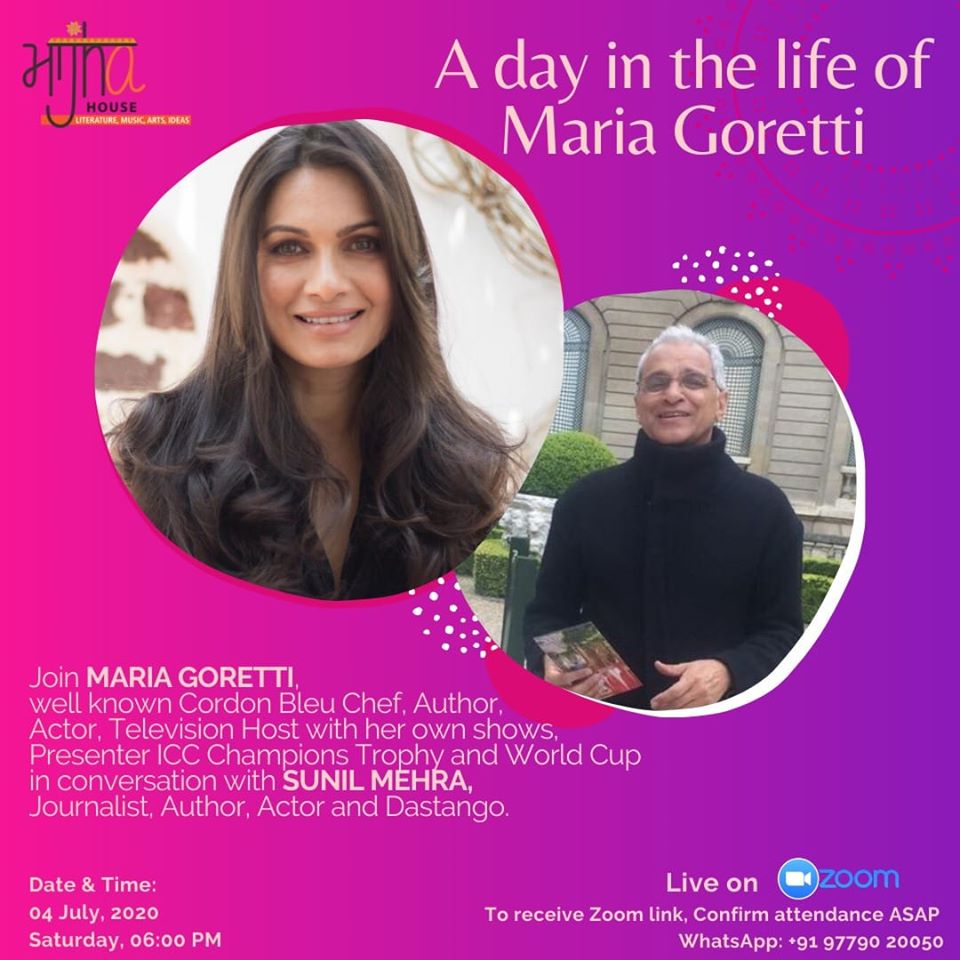 1st July
Punjabi Cuisine A Hotpot Of History
Majha House Presents
*PUNJABI CUISINE*
*A Hotpot of History*
*Puneetinder Kaur Sidhu* (Author , Travel Writer , Content Developer, Food Critic and an Itinerant traveler ) and *Vernika Awal* (journalist , food writer and blogger) in conversation with *Poonam Bevli Sahi* (Foodie, Graphic designer and Artist) as they talk about the delectable food and rich culture and traditions of Punjab.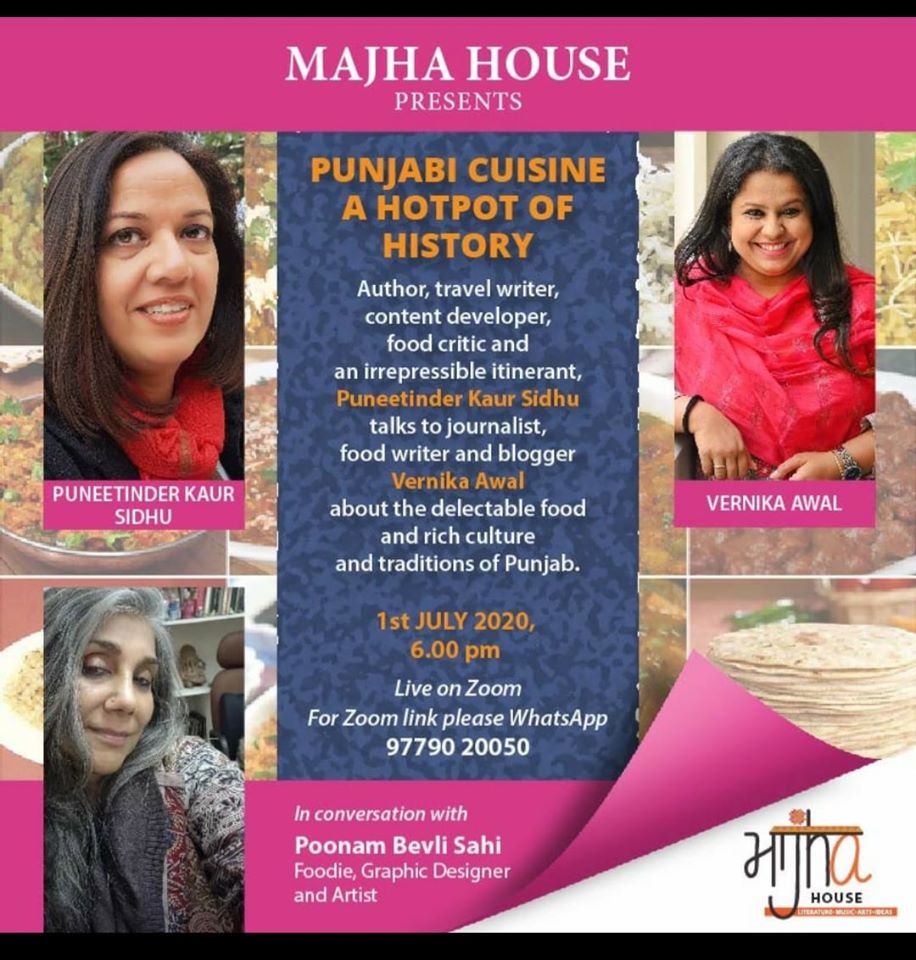 26th June
1975: India's Tryst with Emergency
On the 45 th anniversary of the Emergency ,four eminent journalists speak out..Sir Mark Tully( KBE ,journalist, author) Kalpana Sharma (Independent journalist, columnist, writer ) , Tarun Basu (veteran editor, media commentator, policy analyst in conversation with Sanjoy Hazarika (Director CHRI) on Friday , 26th June ,2020 on Zoom meet app..Please wats app 9779020050 for zoom code.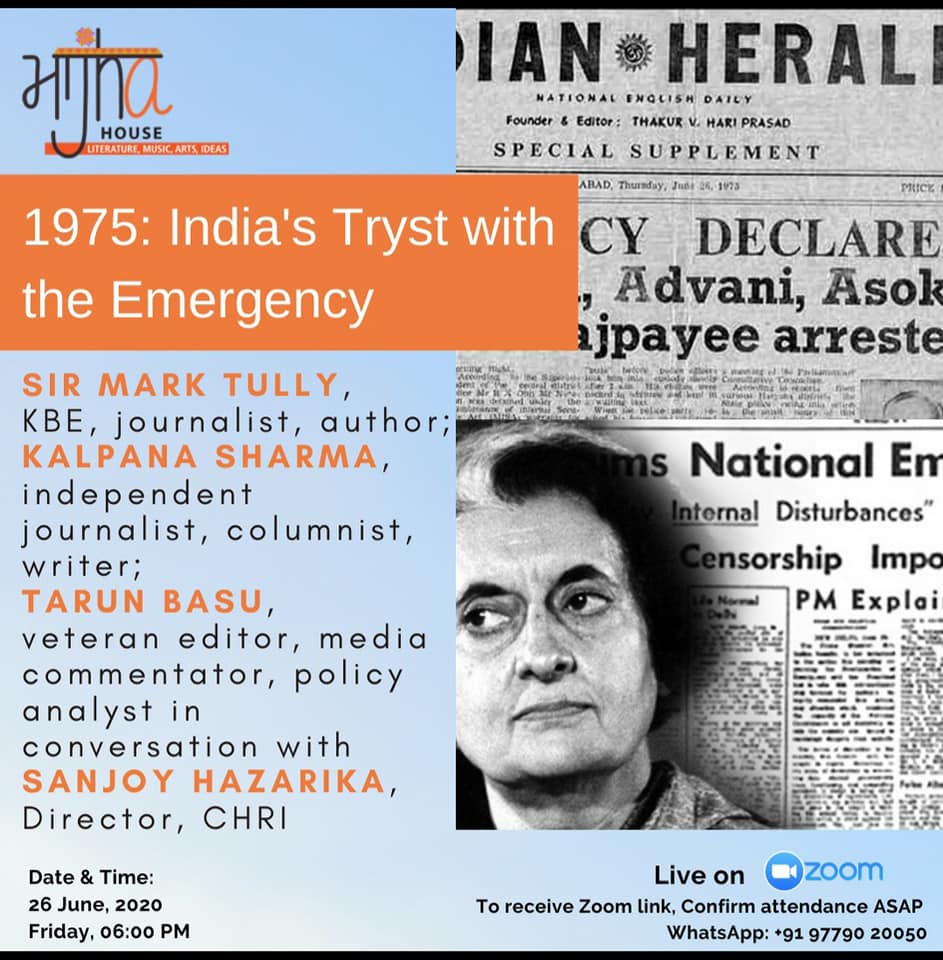 23rd June
Unlawful Justice
India's Best selling author of crime fiction VISH DHAMIJA in Conversation with Kishore Thukral about his crime thrillers, creating his kick ass Mumbai detective Rita Ferreira and writing in the Time of Covid 19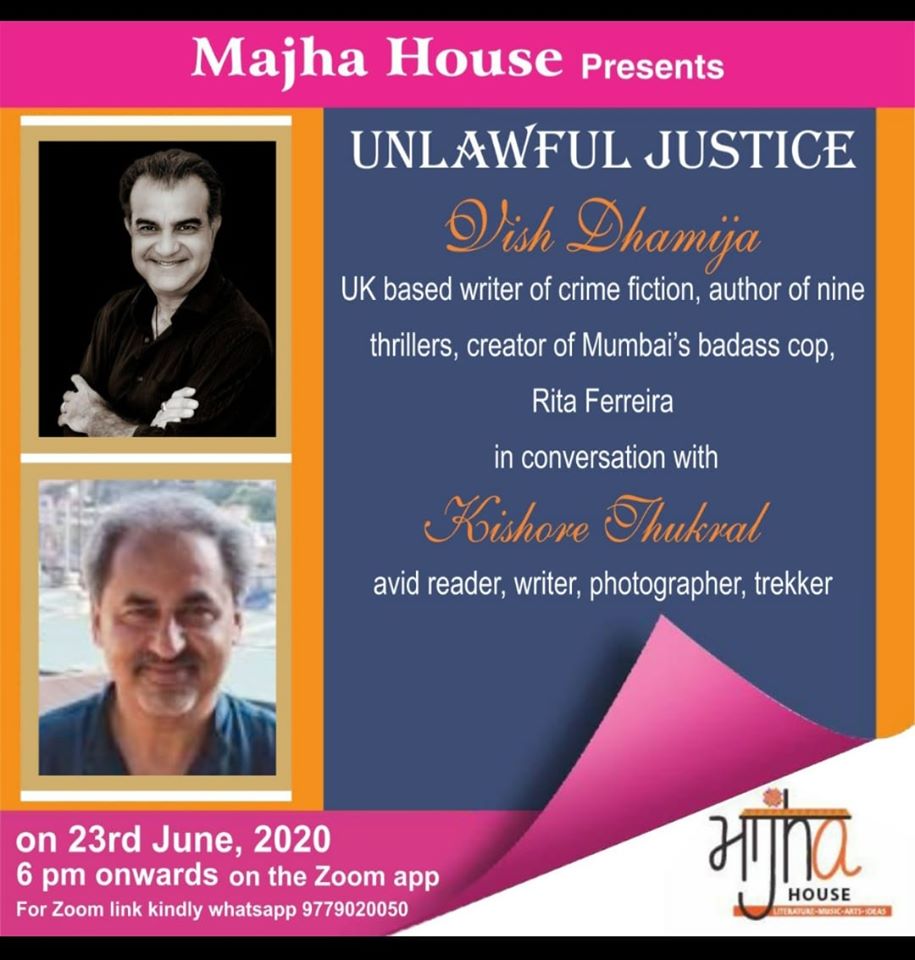 20th June
Bollywood Diary
Kanika Dhillon is an author and screenwriter known for her fierce intelligent and entertaining screenplays for films like Manmarziyaan, Kedarnath, Judgemental Hai Kya, Guilty. Born in Amritsar, Dhillon completed her graduation in Delhi and went to study at London School of Economics. Her debut book, Bombay Duck is a Fish became a bestseller. Later, she wrote two more novels – Shiva & the Rise of the Shadows and The Dance of Durga. Dhillon earned a spot on Film Companion Disruptors, 'Top 30 under 30' by HT Annual Youth Summit and was awarded India Today's Woman writer of the year 2018.
EXCLUSIVE FOR MAJHA HOUSE MEMBERS ONLY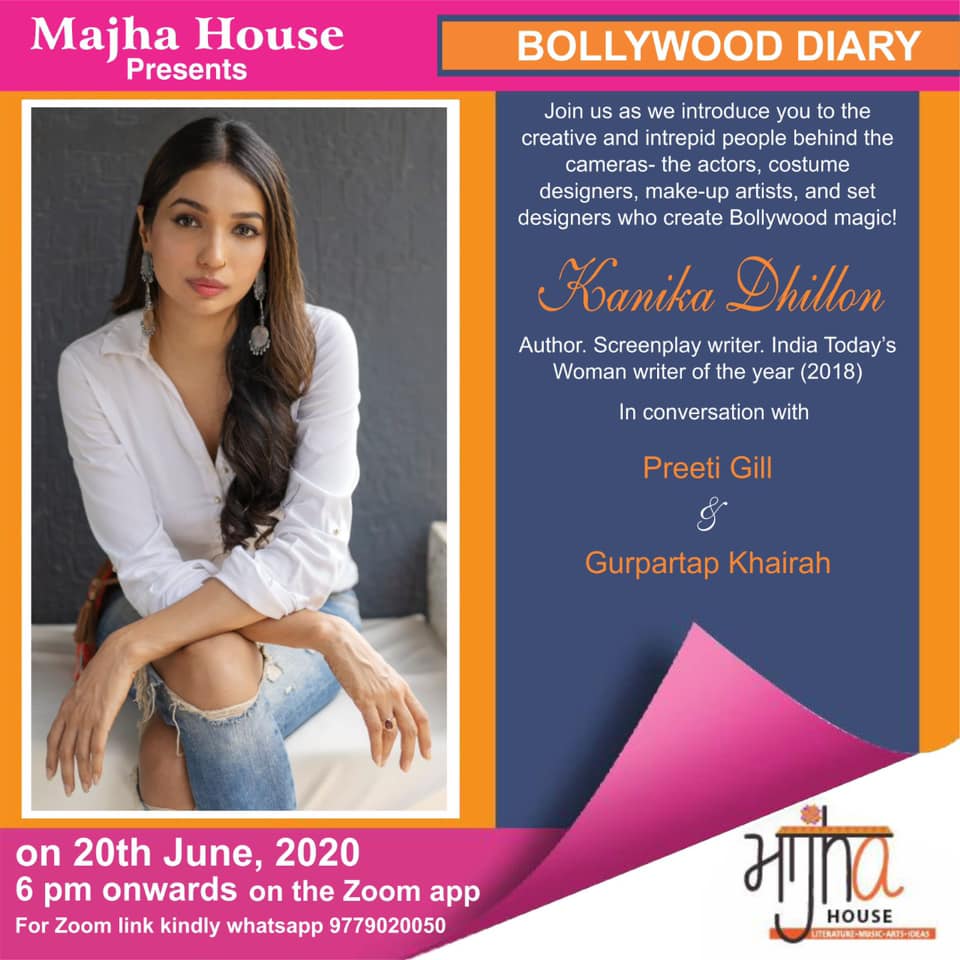 16th June
Building Punjabi Pride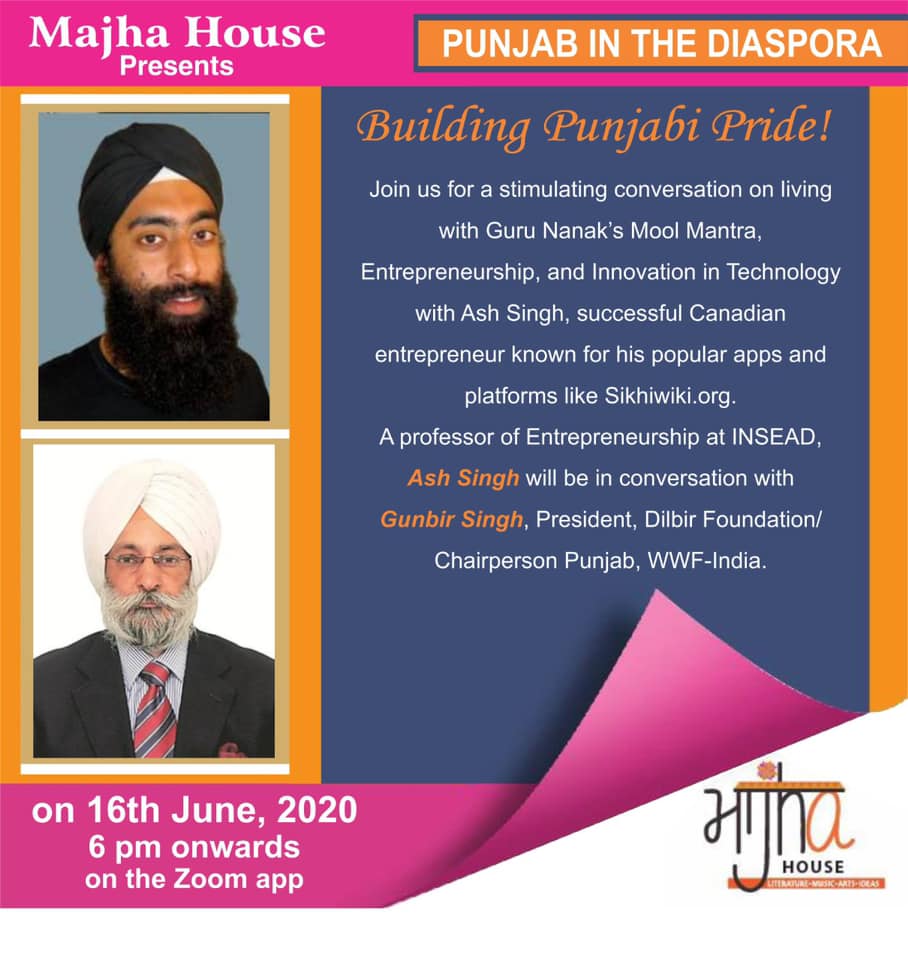 3rd June
Are you Future Ready?
AJAI CHOWDHRY, Founder HCL is a recipient of the prestigious Padma Bhshan award (2011) for his landmark contributions to the Indian IT industry. He has been listed among India's Most Powerful Brand Builders and India Inc's Most Powerful CEOs. He has been nominated by the President of India to be Chairman of IIT, Hyderabad and then IIT Patna. He is Founder of Swayam Charitable Trust and believes in giving back to society especially students.Presently Mr Chowdhry is focused on incubating entrepreneurship by aiding start ups and teaching professional courses on Entrepreneurship at IIT Hyderabad and other institutions across India.
ANKUR BISEN is Senior Vice President, Technopak Advisors, Pvt Ltd and leads the Consumer, Foodand Retail Advisory Practice. He writes for The Wire and First Post on environment and sustainability and his first book Wasted: The Messy Story of India's Sanitation Challenge- A Manifesto for Change was published in 2019 (Pan Macmillan India).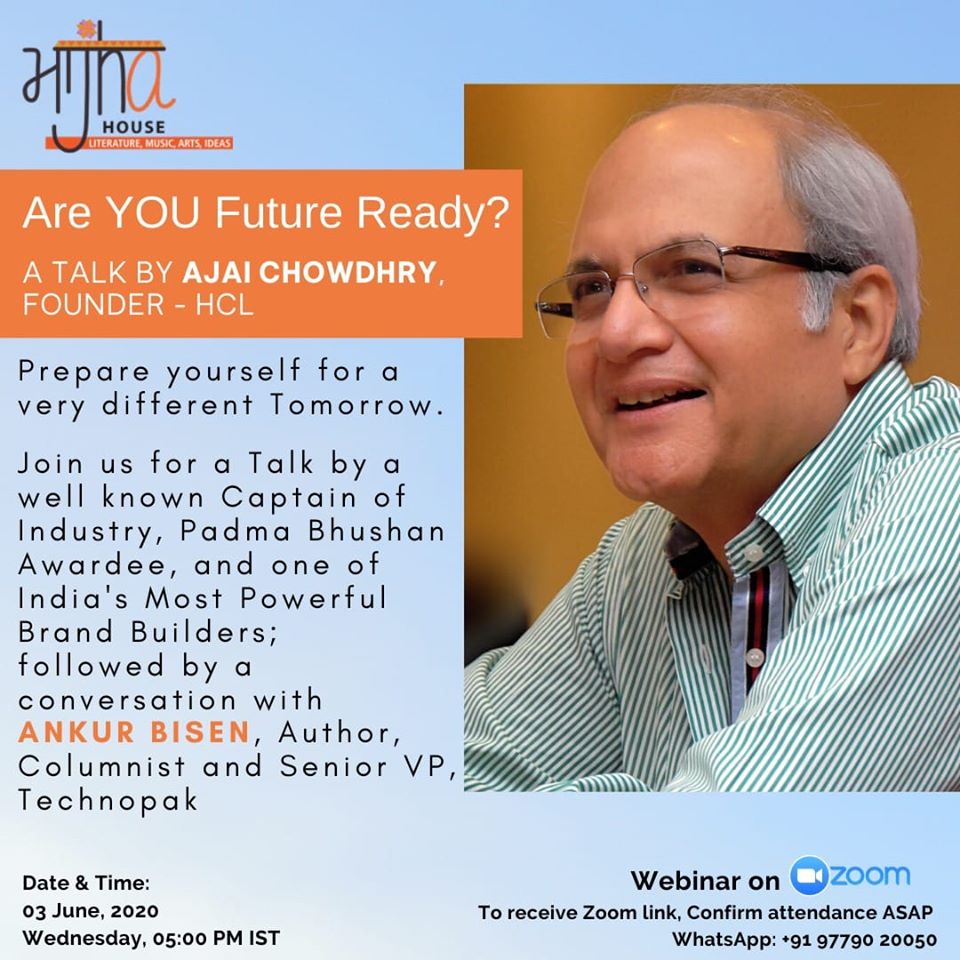 30th May
Women's Health: Breaking Barriers
Majha House
presents
Gulneer Puri & Gurleen Arora in conversation with Nazi Puri
We introduce you to an initiative #BloodyPure by Kadam, an NGO working in the area of spreading awareness around women's health and a Nutrition Specialist who will answer all your questions on diet and nutrition for optimal health, especially in these Lockdown Times.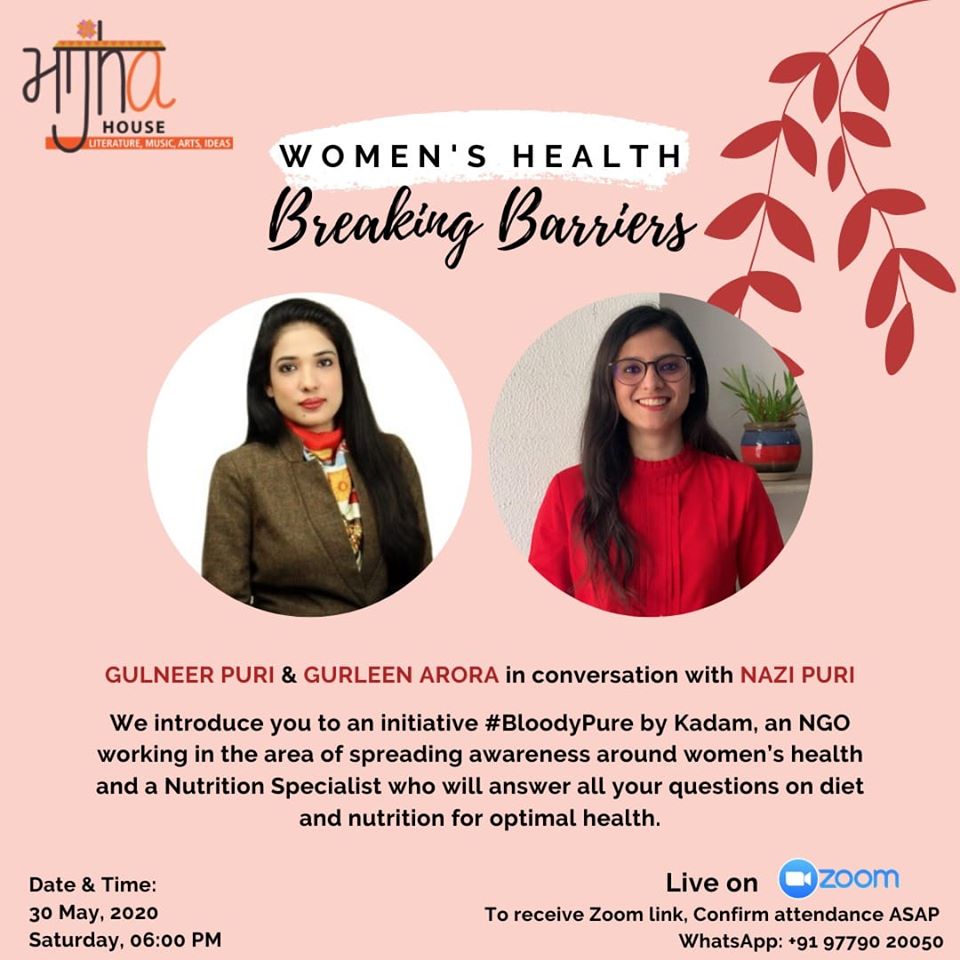 27th May
*SHE STOOPS TO KILL

THE SESSION IS BASED ON THE BEST SELLING BOOK *SHE STOOPS TO KILL* : STORIES OF CRIME AND PASSION' (published by Speaking Tiger).
IT WILL BE FOR 90 MINUTES. PLEASE SEND A WATS APP TO 9779020050 TO REGISTER and GET ZOOM LINK AND PASSWORD.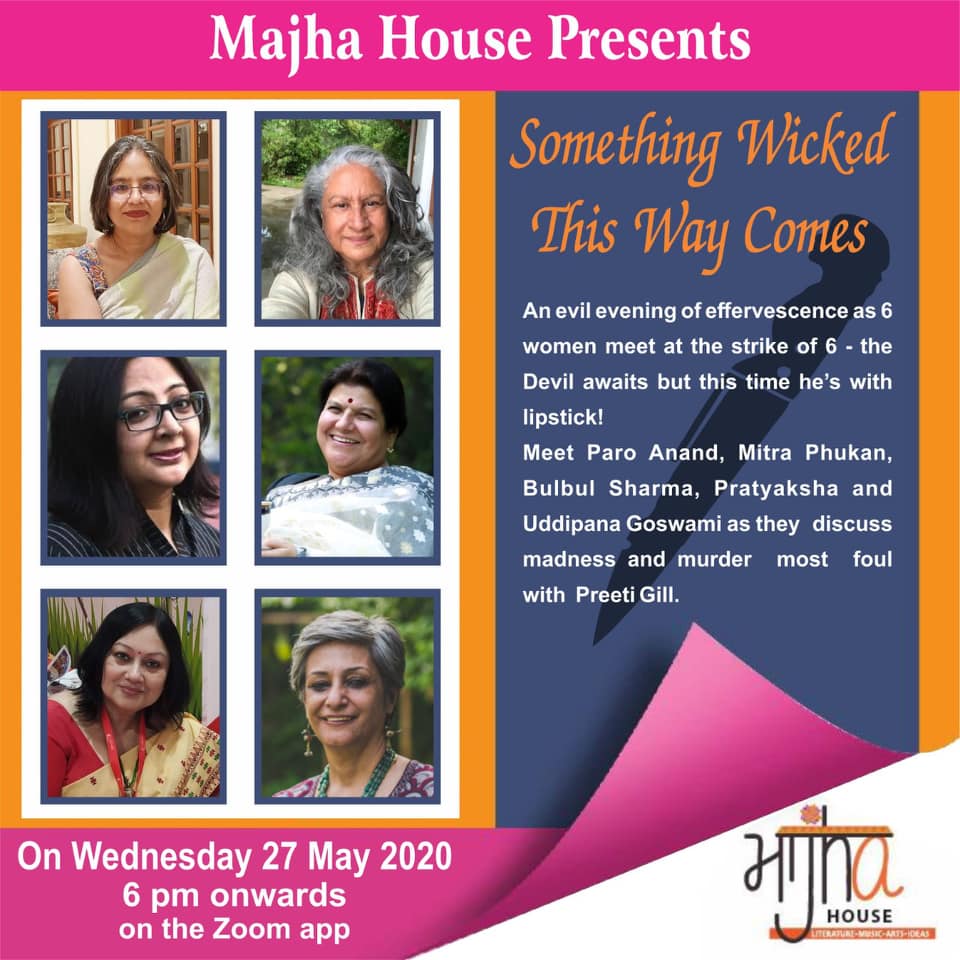 23th May
Travels in Ancient Lands -A Talk by Amardeep Singh

Travels in Ancient Lands -A Talk by Amardeep Singh
Listen to the fascinating account of Amardeep's travels across nine countries as he traces the travels of Guru Nanak. This is the first time an attempt has been made to visually document the sites, the stories, the spiritual importance of this quest.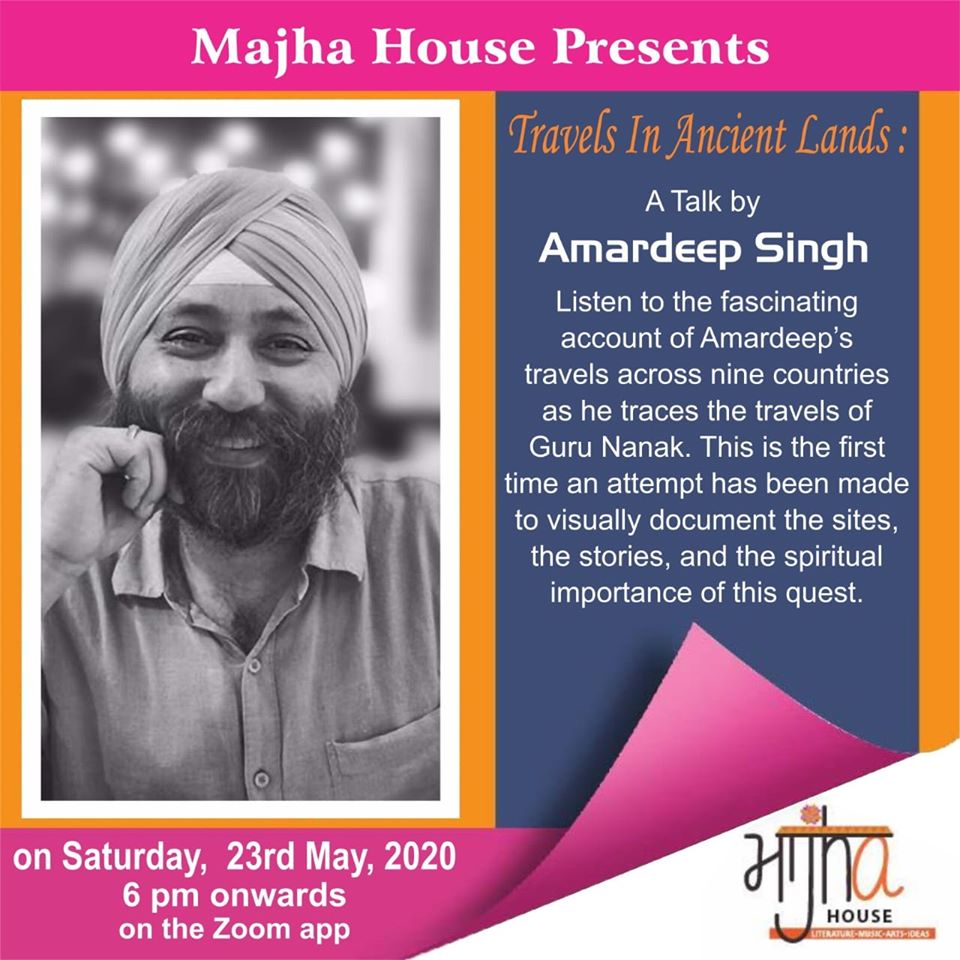 20th May
Living in Body & Costume
DOLLY AHLUWALIA TEWARI is an internationally renowned, award winning costume designer and actor. She has designed costumes for more than 45 theater productions and worked with eminent directors like Ibrahim Alkazi, BV Karath, Barry John, MK Raina, Pankaj Kapur, Anuradha Kapur to name a few.
She has acted in films like The Blue Umbrella, Water, Vicky Donor, Partition, Yeh Jawani Hai Diwali and a host of others.
Dolly has received three National Awards for Best Costume (for Bandit Queen, Haider and Vicky Donor). She has also been awarded the Sangeet Natak award and Balraj Sahni award as well as many Filmfare awards, TOIFA Award, and the Screen Awards for a number of critically acclaimed films.
We have seen her wonderful, authentic period creations in films like Midnight's Children, Earth 1947, Water, Omkara, Haider, Bhag Milka Bhag, Rangoon etc. Dolly has conducted theater workshops organised by India's premier theater institutions. She is also Visiting Faculty at NSD.
SUNIL MEHRA is a well known social commentator, writer and journalist. He is an internationally acclaimed performer and actor who does Dastangoi and Qissabaazi. He has acted in a number of films, most recently as part of an ensemble cast in Uri.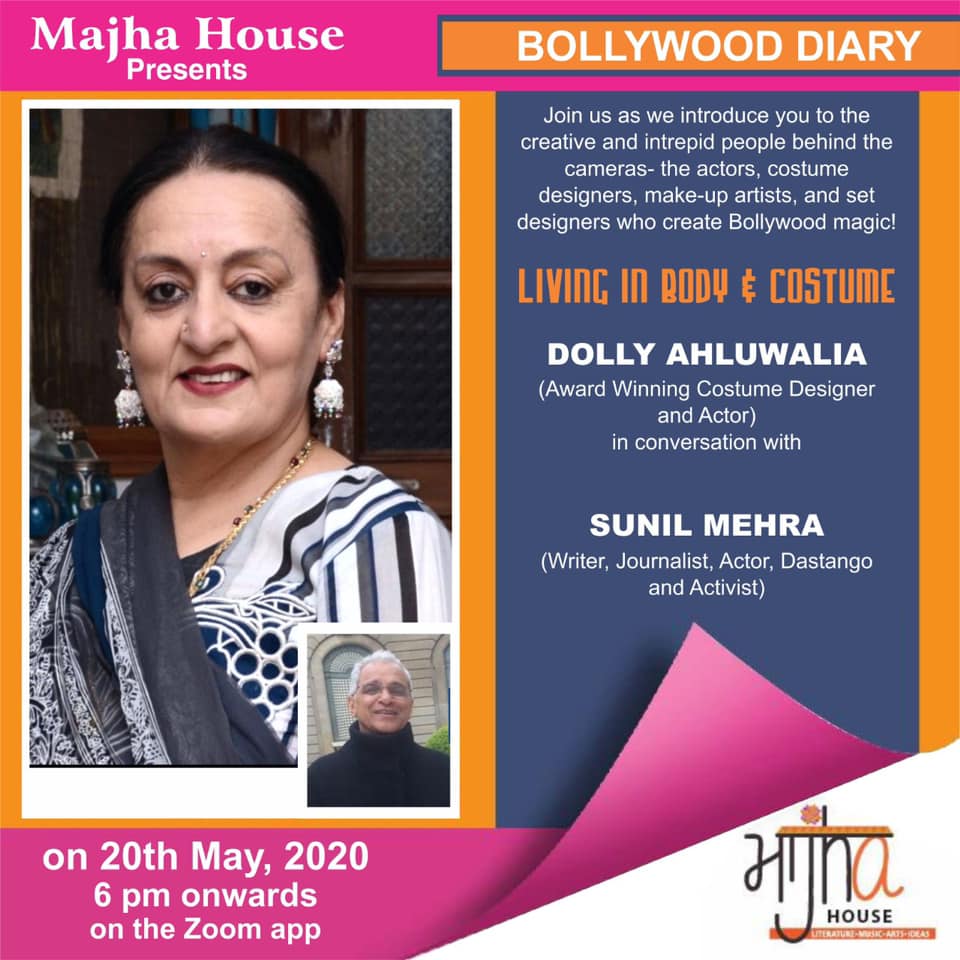 16th May
CONTENT is QUEEN
Meet three hugely successful, talented, brilliant and vivacious young women:
Jaya Misra, Tanushree Dasgupta and Neha Parti Matiyani, the POWER GIRLS behind some of the most popular films, TV and Digital series across platforms today.
Listen to them chat with Gurpratap Khairah about their successes, life choices and everything in between as they talk of what it means to go boldly where not many have gone before!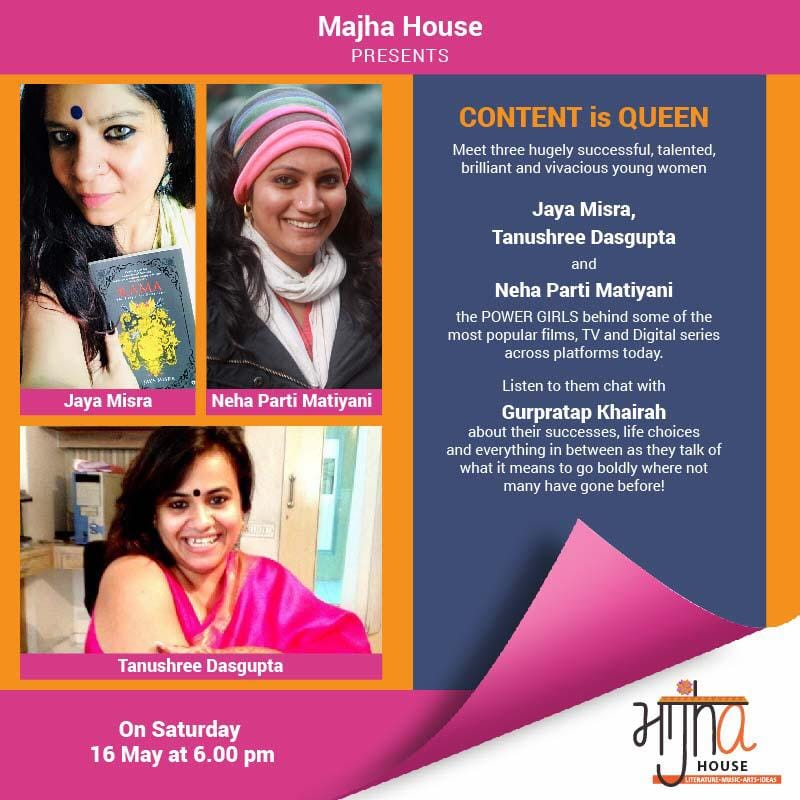 13th May
QISSA QISSA LUCKNOWWAA

Listen to SUNIL MEHRA, internationallly acclaimed Daastaango, as he regales us with rib-tickling stories from Himanshu Bajpie's novel Qissa Qissa Lucknowaa about the peccadillos of the Lucknowi Everyman.
SUNIL MEHRA is a Delhi based journalist, author, filmmaker, curator, and social commentator.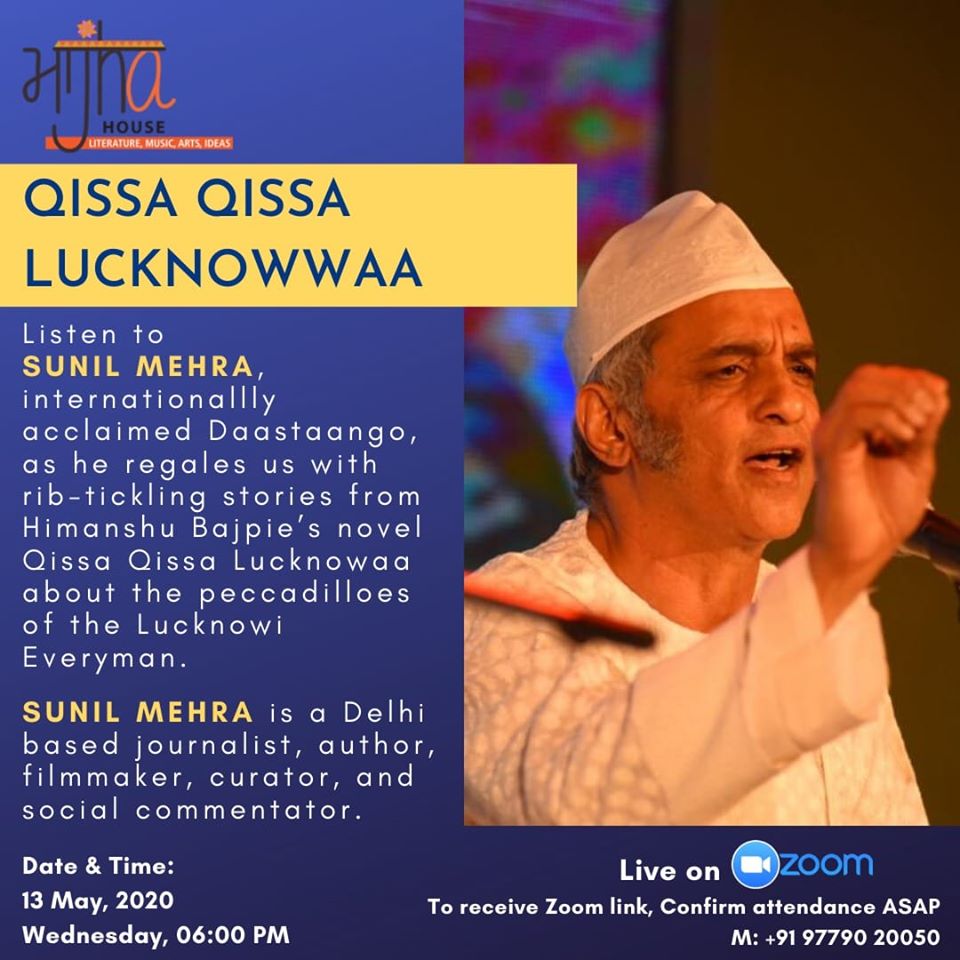 9th May
Celebrating Stress, Anxiety, and Depression in the Time of Coronavirus with Simar Onkar

A university gold medallist in Psychology, SIMAR ONKAR earned his bachelor's, masters, and post-graduate training in behavioural medicine and psychotherapy from St. Xavier's College, Kolkata, the University of Jodhpur, Rajasthan, and Christian Medical College & Hospital, Ludhiana, respectively.
Simar has 30 years of professional work experience to his credit in helping people with respect to issues in their careers, education, relationships, marriage, parenting, and personality.
Simar counts his love for psychology, philosophy, poetry, photography, and physics, to take just one letter from the English alphabet, among the plethora of 'childhood disorders' that he himself suffers from.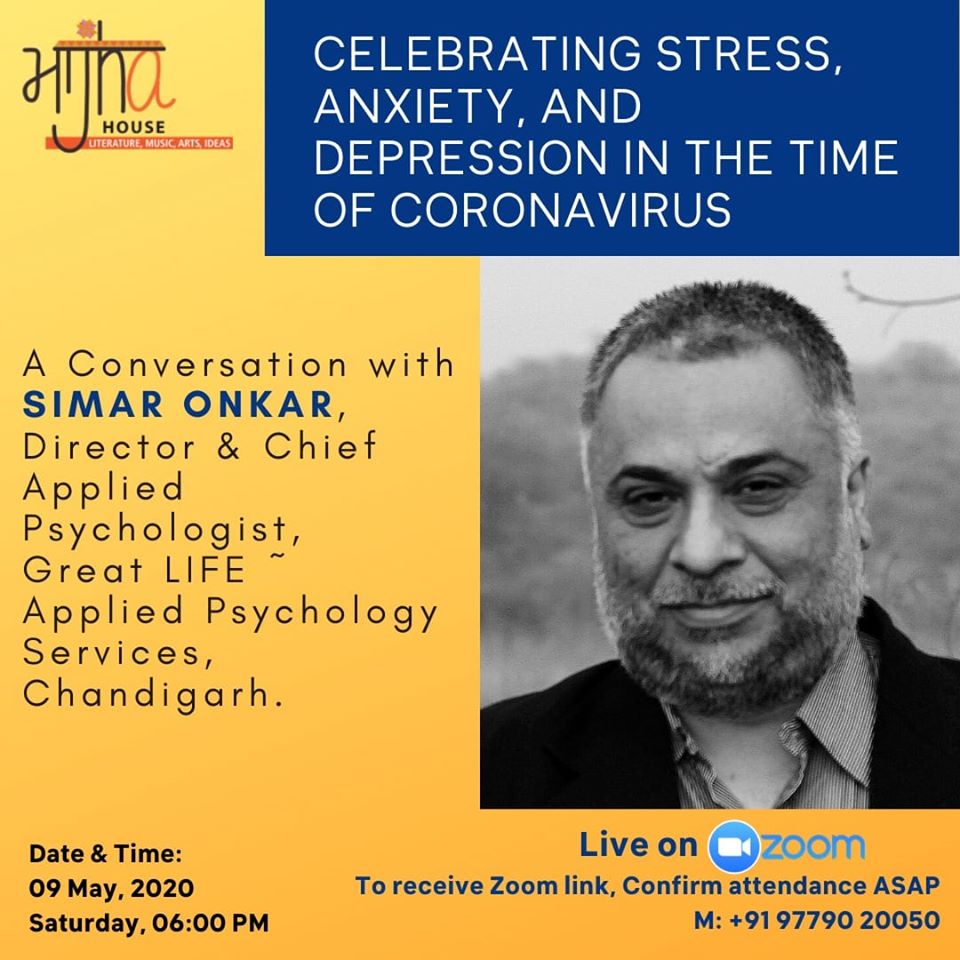 Undivided Punjab, with a rich history and syncretic cultural traditions, represents a region of indomitable spirit, prosperity and resilience. We view the shared heritage of Sanjha Punjab as an opportunity for us to come together as South Asian citizens in defense of goals of peace and friendship, collaboration and cooperation.
The Sanjha Punjab initiative aspires to utilize the shared heritage of undivided Punjab to build linkages in a variety of ways. Through intercultural meetings with a renowned set of scholars, thinkers, practitioners and leaders from across borders, we aim to facilitate cutting edge dialogue on concerns and issues that are common to both geographies. Our aim is to bring into interface the youth of the two contiguous parts of Punjab with leading voices within the region to kindle cutting edge discussions on our shared futures.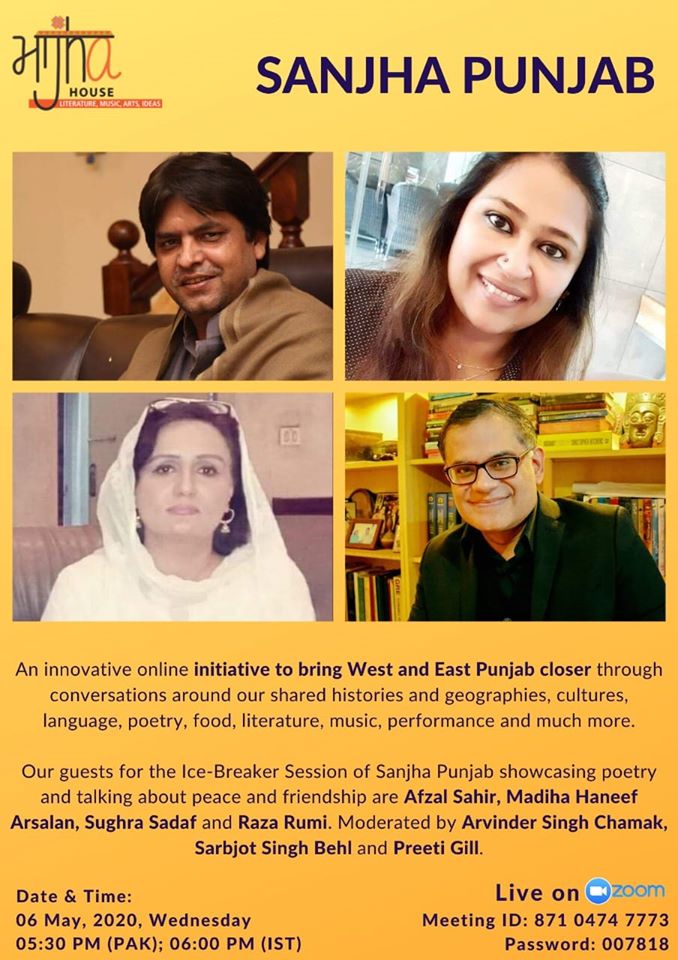 2nd May
The Panjab Dialogues Session #01 – Amandeep Sandhu
Session 1 on May 2, 2020 where our first speaker Amandeep Sandhu will talk about the critical issues that Panjab is facing. His new book Panjab: Journeys Through Fault Lines lays a foundation for the critical discussions we bring through this new platform. Present-day Panjab prides itself on legends of its military and valorous past even as it struggles with daily horrors. The Green Revolution has wreaked ecological havoc in the state, and a decade and a half of militancy has destabilised its economy and governance. Sikhism—the state's eclectic and syncretic religion—is in crisis, its gatekeepers brooking no dissent and giving little spiritual guidance. And Panjab has yet to recover from the loss of its other half, now in Pakistan. Underneath it all, though, the old spirit of the land beats away—an undercurrent of resistance to power and hegemony that holds the hope that Panjab's unyielding knots can be untied.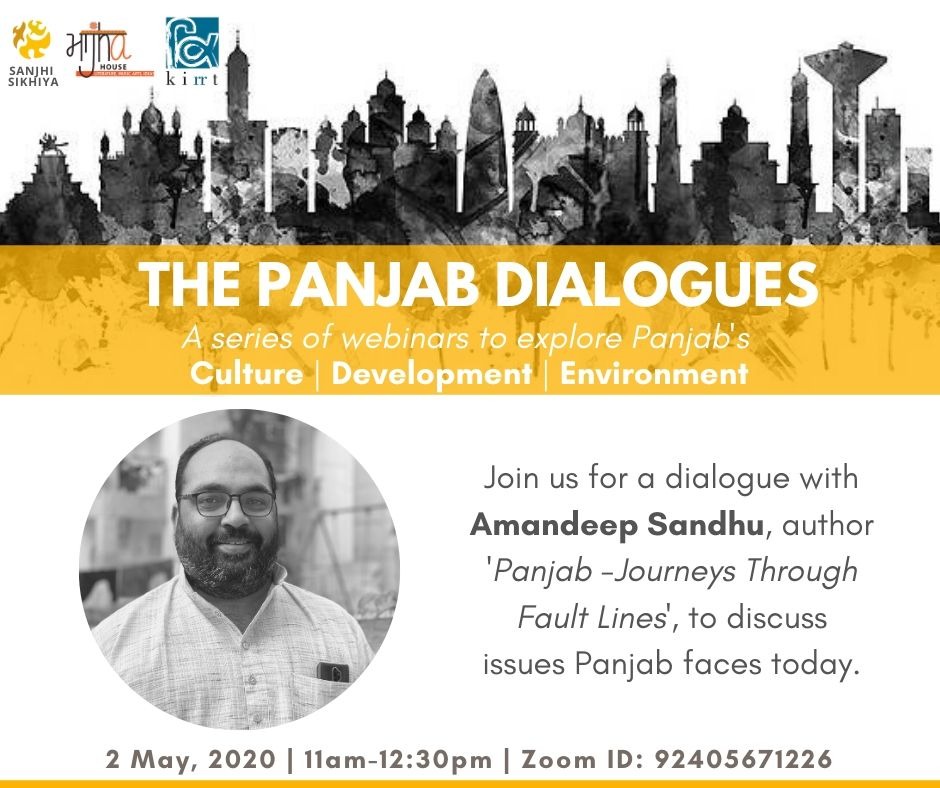 29th April
GHARE BAIRE The Home and The World
SANJOY HAZARIKA is the international Director of the commonwealth Human Rights Initiative and the author of five bestsellers including St angers of the Mist, Strangers No More: New Narratives from India's Northeast and Bhopal: The Lessons of a tragedy. A former correspondent for the New York Times, he was Founder Director of NE Centre at Jamia Millia University and he heads the Centre for Northeast Studies and Policy research. Join us on Wednesday at 6pm confirm to get the zoom code.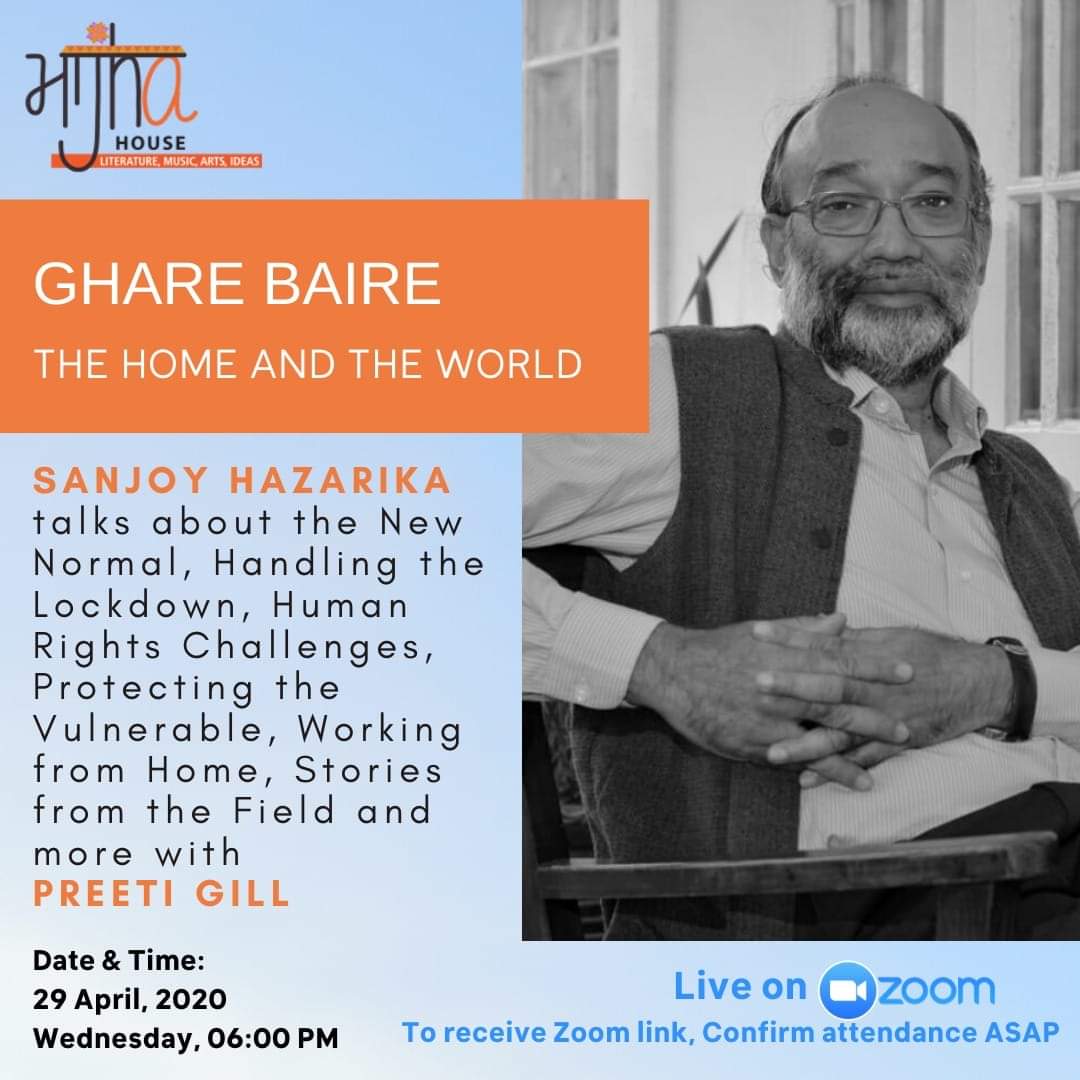 26th April
Majha House Represent MEERA BAI
Explore the difficult but inspiring life one of india's greatest bhakti poets.
Join us for a conversation between Dr Gurupdesh Singh and Dr Ramnita Sharda where they discuss the life and times of Meera Bai Sunday, the 26th April 6pm on the zoom app.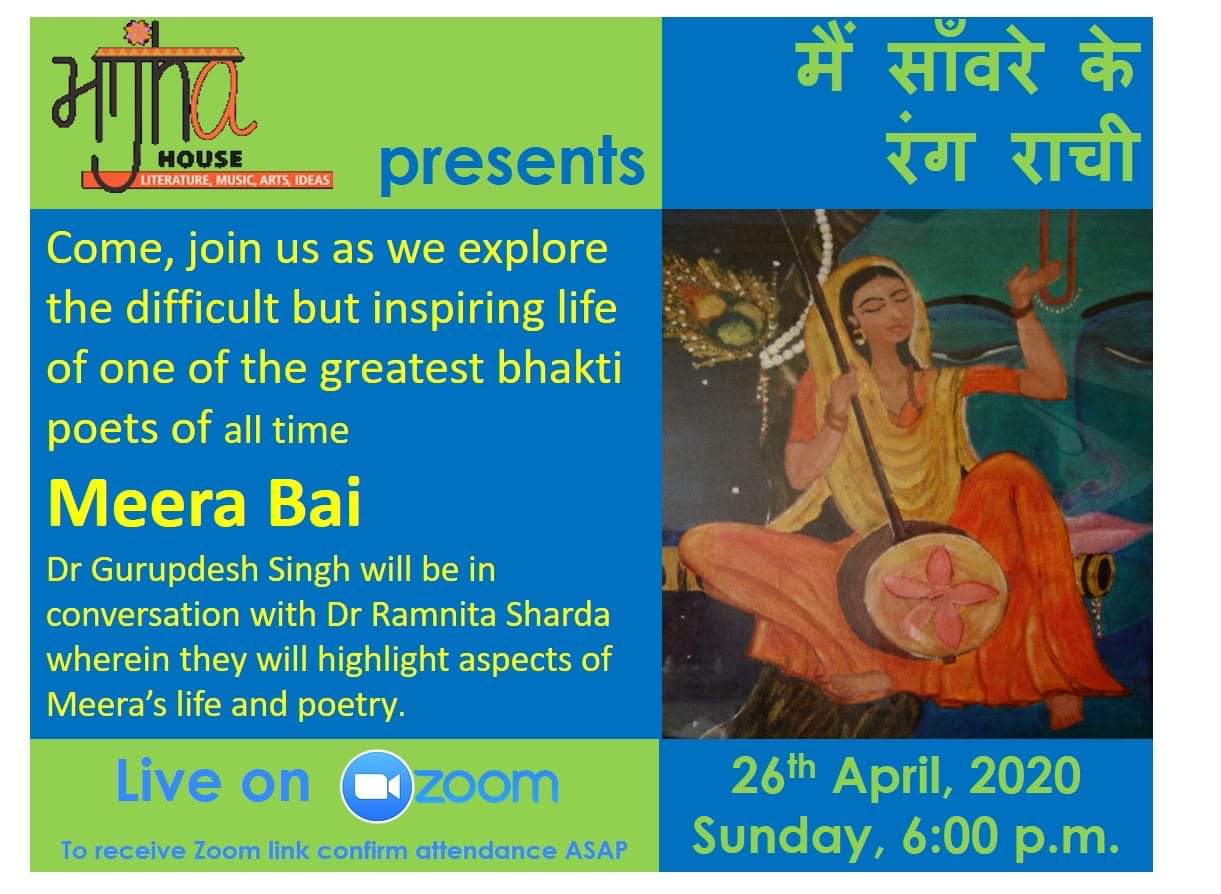 Forthcoming Event 25th April
Majha House presents Women's Voices
NITOO DAS is a birder, caricaturist and poet with two published collections of poetry. She teaches English Literature at Delhi University.
JHILMIL BRECKENRIDGE is a London based poet, writer and activist. She is the founder of Bhor Foundation a charity active in mental health advocacy.
NABINA DAS has three collections of poetry, a novel and an anthology of short stories to her credit. She teaches creative writing and is a gender activist based in Hyderabad.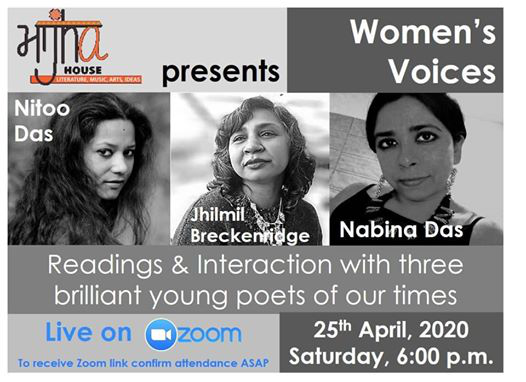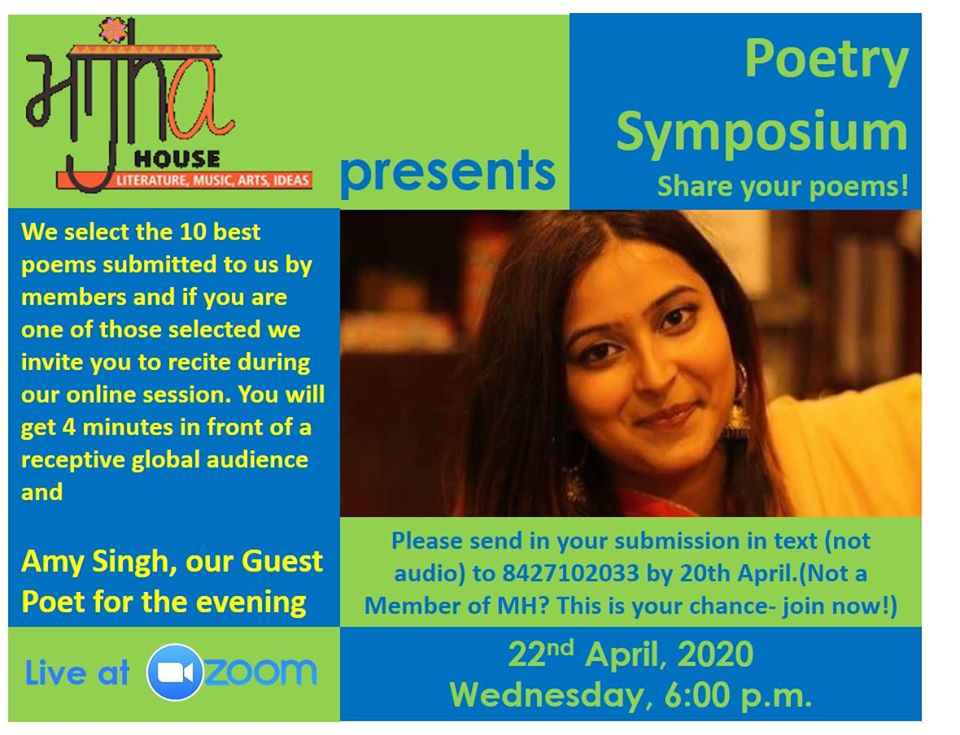 April 18th, 2020.
Prabha Khaitan Foundation (PKF) in partnership with Majha House brings you Aakhar
Prabha Khaitan Foundation (PKF) in partnership with Majha House brings you Aakhar. It is a unique initiative to find new possibilities, especially in promoting and popularizing Punjabi literature and culture, and a platform for holding a series of literary events where prominent authors will engage in freewheeling tete-a-tete sessions, with select audience comprising people from different walks of life. It also aims to encourage Gender Equality and Women Empowerment.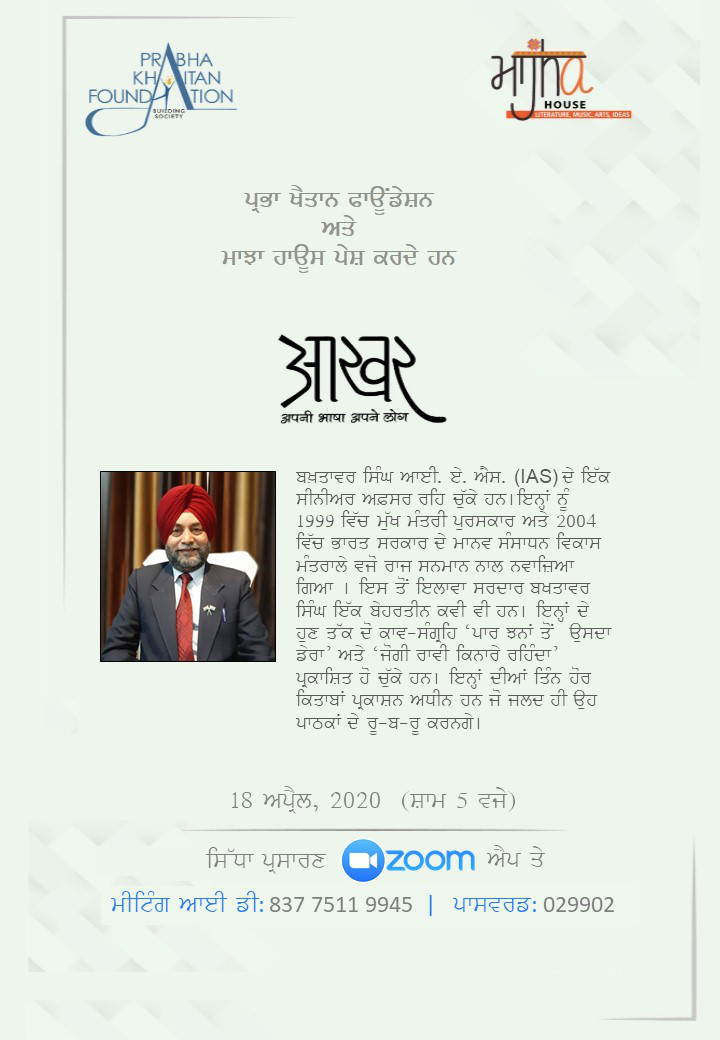 April 17th, 2020.
Travel with Tales and may be Tails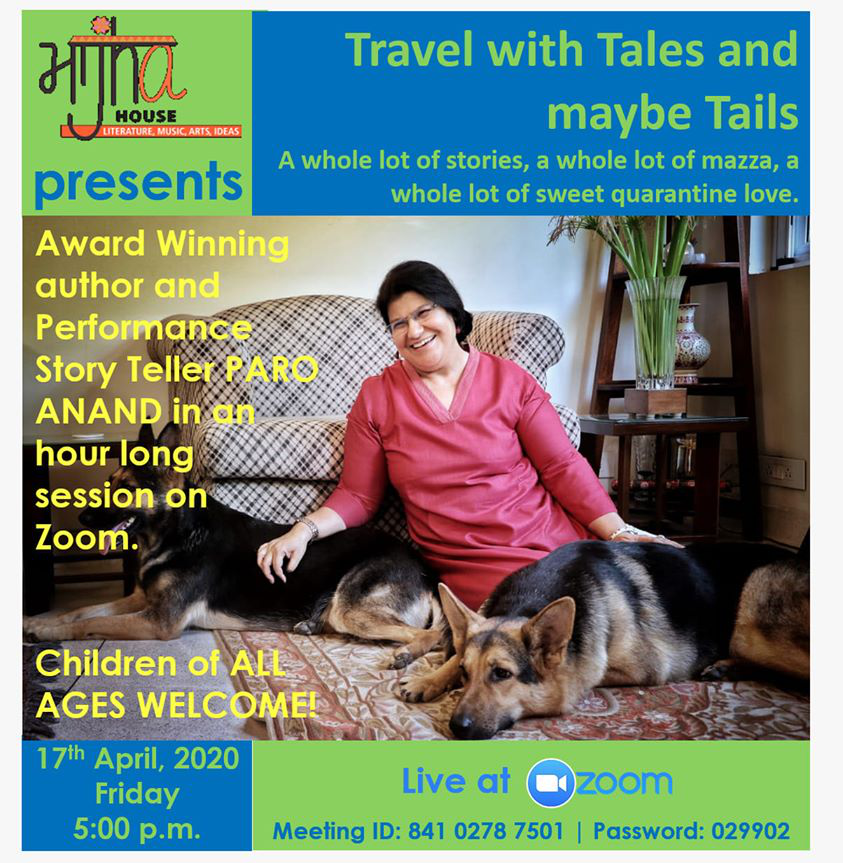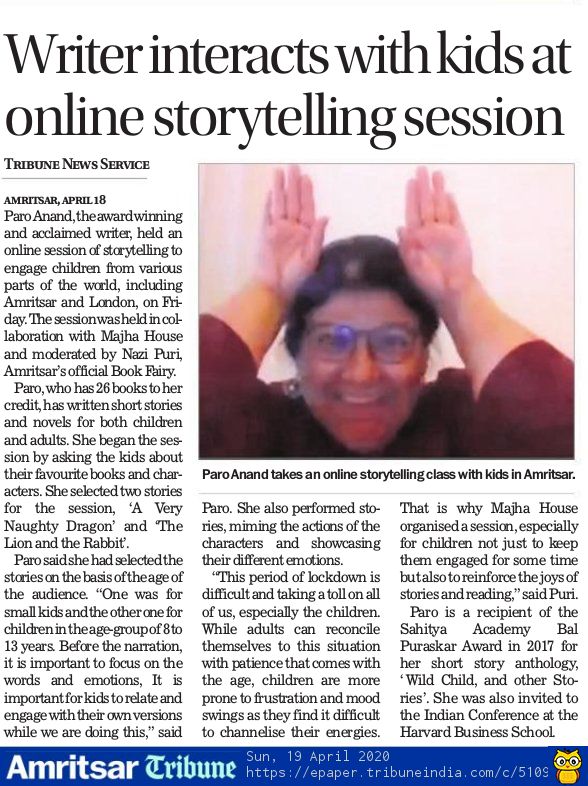 April 15th, 2020. Majha House & HAQ present
Let's Talk: Parents & Children in Lockdown Helping children and parents cope with Stress in the Time of CoVid-19.
'Creative activities will help parents bond with kids'
As the government has extended the lockdown, parents are in a fix over ways to spend their free time for another more than two weeks. Coming to rescue of such parents and children, the Majha House on Wednesday hosted a session with members of the HAQ Centre for Child Rights.
Enakshi Ganguly, Farzana and Kavita are members of the Delhi-based NGO that works on child protection and creating an enabling atmosphere for children.
The thrust of the conversation was about parents and children during the lockdown. "Most human beings are quite contrary. During normal circumstances, they lament that they do not find time to spend with their families and all that they would do if only they had the required time. And now when we have nothing in our hands but time, people are still complaining," said Farzana.
"This is once in a lifetime situation and we should make the most of it. We will never have so much free time with us. Cultivate hobbies, learn new things, pursue passions and play indoor games with children or involve them in household chores like cooking and setting closets. This will help form a stronger bond between parents and children," said Kavita.
Enakshi said both parents and children need to understand each other's concerns and perspectives. She said parents should not dictate their own personal beliefs to children, but should try to make them understand their concerns. She added that children on the other hand should try to see their parents' point of view.
Taking queries posted by parents from across the country voicing their concerns and anxieties about their wards during the lockdown, Enakshi said, "It is not possible to keep children away from gadgets and online arenas absolutely. We can divide some time on a daily basis. They should know how much time they can spend online which will help them divide their time window throughout the day."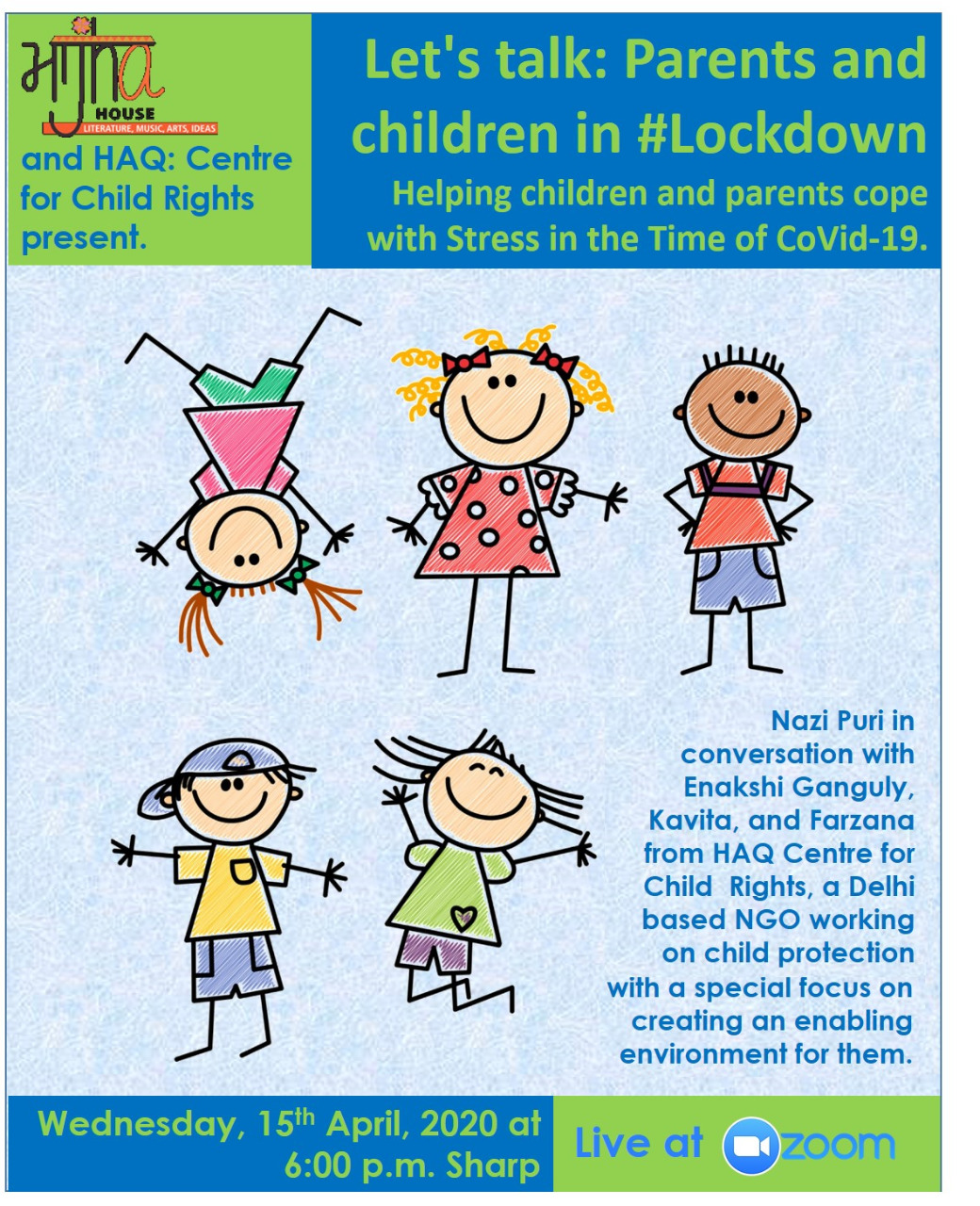 April 11, 2020
Investment in the time of COVID-19: A virtual interaction with Anurag Tripathi
Author Anurag interacts with readers through online session
In these days of social distancing, the Majha House on Saturday held an online interactive session with Anurag Tripathi, a Singapore-based banker-turned-author.
Anurag Tripathi completed his education from the Indian School of Business, Oxford. Following a career as investment banker, he wrote his first novel, a thriller, titled 'Kalayug' in 2017, which dealt with the art market. Presently, he lives in Singapore and during the session he talked about his second book 'Dalal's Street'. This book deals with the intricacies of the investment market and what goes on behind the scenes behind the numbers and figures we all see. The session was moderated by Dr Venus, Assistant Professor at GNDU. Anurag spoke about the difficult life choices he has made in his career. "It's not very easy to give up a comfortable job and try your hand at something that is so prone to risk, making you vulnerable to financial losses. But there's always the thrill of trying something risky. And the joy is doubled once you succeed; it can be very heady," he said. Talking about his novel, 'Dalal's Street', Anurag said the subject came naturally to him as he had spent years closely studying the market, getting the hang of it. "I've always loved telling stories. Telling stories came naturally to me and I just had this knack of keeping the audience engaged. Thus, writing came quite naturally to me", he said.
Preeti Gill, founder, Majha House, said the online interaction was specially aimed at engaging the interested audience in literary activities. "We are living in very uncertain times and being safe is of paramount importance. But staying under lockdowns and curfews can be very frustrating due to lack of engaging activities. Therefore, we decided to go online in order to keep its members actively and constructively engaged. In the coming weeks, we will bring to our members more writers and speakers from India and overseas, who will be talking about books, writers, music and more," she said.