SANJHA PUNJAB FESTIVAL 2021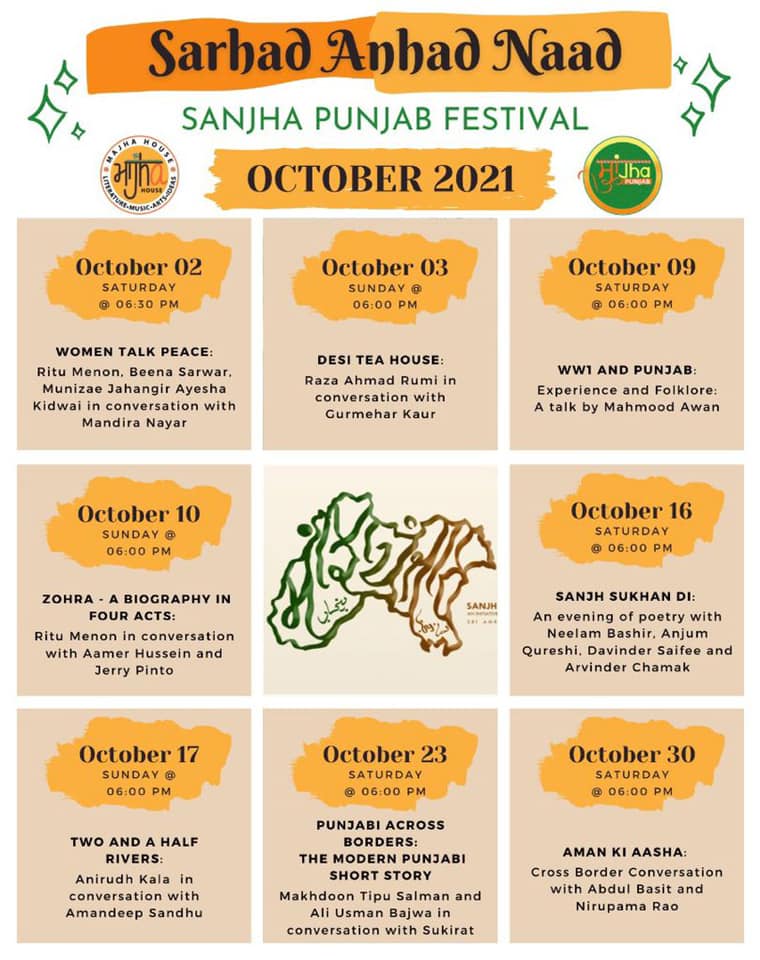 New Writing From Punjab
Sakoon Singh & Rana Preet Gill
ALLEGORY*:*A TAPESTRY OF GURU NANAK'S TRAVELS*
Amardeep Singh and Vininder Kaur in conversation with Preeti Gill
Chaurasi: Lest We Forget
Every year 31st October brings back memories of the dreadful pogrom against Sikhs that haunt us to date.
*1984/ Chaurasi*: even today, thirty-seven years down the line, makes us wonder about how we should deal with it, talk about it and voice our right to justice.
We want to remember that time. To talk about what happened- lest we forget. And as we remember we stand by those innocents who bore the brunt of the political fever of the times.
Join us in this special commemoration through stories, poems, and life experiences.
Story writers, poets, and activists bring to you their narratives, thoughts, and experiences on The Stories of Chaurasi: 1984.
Aman Ki Aasha
Cross Border COnversation
Former Diplomats Nirupama Rao and Abdul Basit talk about peace across borders with moderator Sanjoy Hazarika.
Punjabi Across Borders
The modern Punjabi short story
Makhdoon Tipu Salman and Ali Usman Bajwa in conversation with Sukirat
Two and a Half River
Against the backdrop of the Punjab militancy, author Anirudh Kala weaves a riveting story.
Anirudh Kala in conversation with Amandeep Sandhu
SANJH SUKHAN DI
The journey of emotions through the expression of poetry…feelings beyond borders.
An evening of poetry with Neelam Bashir, Anjum Qureshi, Devinder Saifee, and Arvinder Chamak
ZOHRA – A Biography in four Acts
An engaging conversation about Zohra Sehgal, theatre and film actor, and dancer-her work and her life.
Ritu Menon in conversation with Aamer Hussein and Jerry Pinto
World War1 and Punjab
WW1, Punjab's Military Service Experience and Folklore:
Brings home to us the experiences of the Punjabis who fought the First World War
A talk by Mahmood Awaan
Introduction by Maj Gen H.K .Singh(retd).
Desi Tea House
A Civilizational Rupture? Are shared heritage and values under siege in South Asia?
Raza Ahmad Rumi and Gurmehar Kaur talk about the erasure of histories, toxic popular culture, growing intolerance, and then reimagine an alternative future for India and Pakistan.
Women Talk Peace
South Asian women writers, activists, academics, journalists discuss peace-building efforts across borders.
Ritu Menon, Beena Sarwar, Munizae Jahangir, Ayesha Kidwai in conversation with Mandira Nayar.