On June 7, 2020– "Sare Muluk Kharab Vichon" – HEER KAHANI AND THE SANJIWAL VISION OF PANJAB. Join us at 6 pm IST, 5.30 PM PST.
Sat Shri Akal, As-Salam Alaikum, Namaste, Welcome to Sanjha Panjab!
It's been three weeks since we connected over the Icebreaker session. Here is a blog post to refresh your memory – https://medium.com/@sanjhapunjabmajhahouse/sanjha-punjab-ea9bb960cb09 and youtube video https://youtu.be/GSU0WeQxvb8)
Sanjha Panjab aspires to build a people's community of the three Panjab's (East, West and Diaspora Panjab). We take advantage of our shared heritage to build this connect, and every event is an opportunity for dialogue (via google group). This group has been created for you to share your thoughts and ideas and engage with the initiative.
We invite you to join our next session on June 7, 2020– "Sare Muluk Kharab Vichon" – HEER KAHANI AND THE SANJIWAL VISION OF PANJAB. Join us at 6 pm IST, 5.30 PM PST.
For Registration, Kindly fill this Google form by clicking on below link
https://forms.gle/pBGRsoTSu1hK6vSp9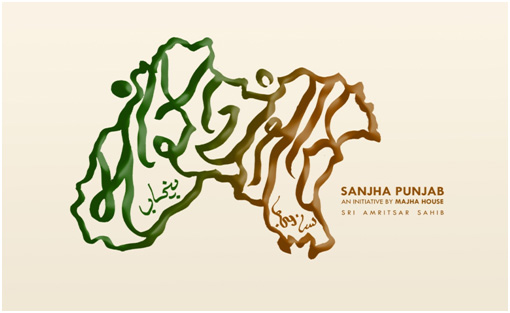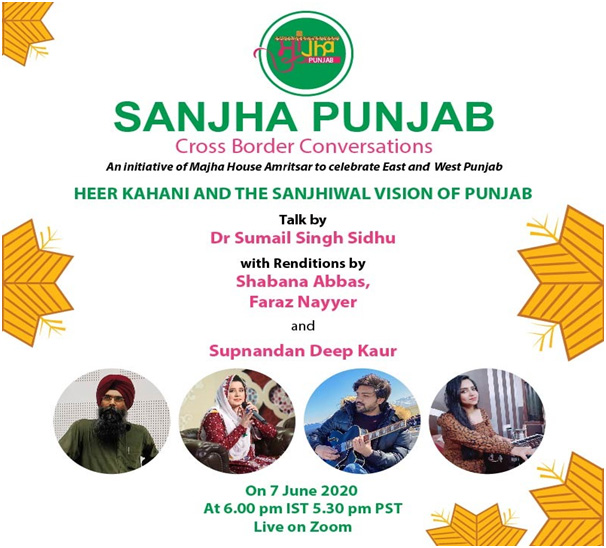 Concept Note: Sanjha Panjab
Undivided Panjab, with its rich history and syncretic cultural traditions, represents a region of indomitable spirit, prosperity and resilience. Through the years, Panjab has also seen its share of pain and bloodshed. Despite these pain ridden histories, the region abounds with hope and optimism, strength and fortitude, derived not least from its youth and their commitment to more peaceful and prosperous futures.
We view the shared heritage of Sanjha Panjab as an opportunity for us to come together as South Asian citizens in defense of goals of peace and friendship, collaboration and cooperation. At a time when the world is locked down, when we are faced with a medical, economic and social crisis that is unprecedented, perhaps it is a time to look forward and to strengthen ties. We aspire to utilize this moment to engage with new critical ideas in order to rebuild and strengthen ties and to inspire dialogue that will promote mutual understanding and respect. These encounters between our inherited cultures will give us all an opportunity to learn, to grow, and to experience.
It is our mission to support our youth in this endeavour, to provide a platform where they can think, ideate, debate and share their visions for this land. We believe that crossing cultural, geographical, professional and generational borders for building bridges will go a long way towards realizing commonalities and being aware of mutual dependencies. We aim for excellence by bringing to our people, especially our young, the best and brightest writers, academics, thinkers, grass root workers, and ideas people.
Initiating a dialogue
Lifting up spirits, Majha House creates safe online spaces where alternate and mainstream voices are explored at this critical time
Neha Saini
Punjab has always been in the eye of the storm, facing some of the toughest battles and never losing in spirit. While it undergoes yet another trying time, with rising COVID-19 cases and a possibility of economical fallout post the lockdown, its soul thrives with its people, a few men and women, who are creating, nurturing and encouraging creative discourse beyond the confines of the walls, inward and outward. Majha House has come up with two new initiatives that aim to highlight, think and start a dialogue on the issues that Punjab is facing these days.
Punjab – A shared heritage
Sanjha Punjab is an online platform on which writers, artists, poets and musicians come from across the border to talk about the shared culture, history, language, music, poetry and food in the two Punjabs. The first session of this series had four eminent voices from Pakistan – Afzal Saahir, Madiha Haneef Arsalan, Sughra Sadaf and Raza Rumi, who discussed various aspects of the current situation and the shared threads between the two countries. The session was curated by poet Arvinder Chamak from Amritsar. Despite the growing political hostilities between India and Pakistan, the panel sounded hopeful, building their case on the strong cultural and artistic ties between the two countries.
Afzal Saahir, a noted poet and journalist, said, "We are all joined by our common history and culture; no one can take that away from us.' Seconding this thought, Madeeha Haneef Arsalan, who is a writer and educator, said, "As people, we have experienced only warmth and love between us. We should all beware of divisive policies, which are aimed solely at sowing seeds of dissent among the innocent citizens who share much more than just a border."
Not to forget the stand-off between the two countries that started with the abrogation of Article 370 in Kashmir and continues despite the COVID 19 pandemic, Madeeha was critical of the political intent of the two governments towards a peaceful solution, as she pinned her hopes on people-to-people interactions.
While discussing the current pandemic situation in both countries, Madeeha said that the situation of the pandemic is much the same for both the Punjabs. "The government has issued directives for the people, instructions and guidelines to observe, which the people are doing. The difference is that we don't have a full curfew imposed; the mosques are open."